The warmth of your embrace…
How it bought a smile on my face….
Those late night talks….
Holding each other…and taking long walks….
Those passionate nights…..
Those silly fights…
That touch of yours I can still feel….
It was a pained soul that you had healed….
I really don't know what went wrong….
Why didn't our love last for long….????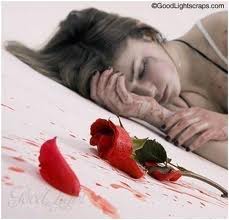 Now that you have left me alone,
Here I sit…cry….and mourn…
But one thing I want to tell you….
I can never love anyone again….
The way I loved you!!!!!!!!!!!!!!!!!!