Three posts back to back…hmmmm…good come back.
I came accross an interesting challenge…a 10 day You challenge in Preeti's blog here . So I am taking up this challenge….here you go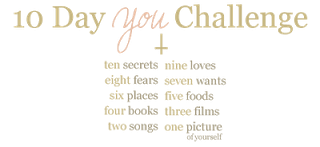 The first post… TEN SECRETS
1. I talk a LOT…. I guess it's not a secret, people who know me closely would admit that I am a nonstop nonsense…especially hubby dear..:)
2. I don't like SHOPPING, did I see raised eyebrows…yes you guys heard it right I don't like shopping. I am the last person who would visit 50 shops to buy some stuff, and end up buying nothing…!!!! So my hubby is lucky that way..isn't it??
3. I can drape a Saree in 15 minutes…all you girls there surprised…hai na??? I love sarees and I love the compliments I receive..:)
4. When I hear a music piece, I can immediately identify the song( only Hindi and Tamil). My friends always wanted me to be their partner in Antakshari. I have won many Antakshari competitions.
5. I am good at imitating others…the way they talk…the way they walk…so having me around is Non-stop entertainment guaranteed.
6. I can even imitate handwriting of others. I used to do it in my school days.
7. I don't like MIL's who have different set of rules for their Daughter and DIL. I agree both the relations are not same, but still I have seen many households where Daughters are allowed to wear any costume but DIL's have to adhere to specific dress code.
8. I don't like people who come and talk to you only when they need you. "Kama purti Mama" a popular saying in Marathi.
9. I still don't like to eat medicines, even a small Crocin…and there you can see me making faces. I had a very tough time taking all those Iron and Calcium tablets during pregnancy.
10. I take frequent short naps. I can sleep in a bus, in a rickshaw, I can sleep even though I am standing in a crowded Karjat local 😛

So you know me pretty well now…isn't it???? Now I would like to know you guys…so do take up the challenge….it is FUN!!!!!!!!!!!!
See you tomorrow..!!!