"Holding on to anger is like grasping a hot coal with the intent of throwing it at someone else; you are the one who gets burned" -Buddha
"I've learned that no matter how good a friend someone is, they're going to hurt you every once in awhile and you must forgive them for that."
There are times when people hurt us, they say something or do something in anger and the relationship becomes sour. Many friendships break, marriages break just because we are not able to forgive and forget the hurt given by our loved ones. We are ready to lose our childhood friend, our parents and maybe our wife and children….but we are not ready to forgive them. Even though we try to, our ego never allows us to do so.
A minor disagreement becomes a big fight…and we tend to bring the old issues and start the blame game. I must admit that even I tend to bring in old things when I have a fight with someone .Why does this happen…??? This is because somewhere in some remote corner of the heart it still hurts….the words spoken…the acts done…it's all fresh…and just a small spark is enough to create a fire.
However, life would be so different if we all could forgive and forget….if we never held grudges against each other. Life is unpredictable…what if you never get to see that person again…never in your lifetime….what if that other person is really sorry for what he/she has done. Give them a chance…breaking a relation takes few seconds….but building one takes ages.
I know it's not easy…it will take time….but isn't it better than losing a loved one.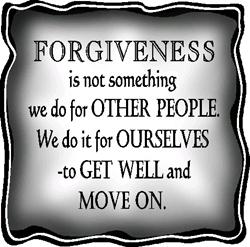 Think about it….and I am waiting for your views.