Yes it's me….lucky me….I still can't believe….I am on seventh heaven….so many good things….and that too back to back….wow….I must be dreaming…but no…It's not a dream…
I would like to share my joy with you all…
Preeti tagged me….this is the first time I've been tagged in the blogsworld. I shall be doing the tag for my 100th post.
How does it feel when you are showered by wishes…and surprise gifts on your birthday…it feels special na….yes, I made my sister's birthday special for her. I asked my friends to give her a call and wish her "Happy B'day". Her day was filled with surprise phone calls…messages…and lots of gifts. Thanks to all my friends who helped me in making this day memorable for my sister. She was delighted…and I could see it in her eyes…and in her smile. Even her office colleagues came to her house and we all had lots of fun.
After months of research….and months of "YES" and "NO"…I finally bought an ANDRIOD SMARTPHONE….a phone which was on my wish list…"Sony Ericsson-NEO V"….and I am totally lovingggggggg it……!!!!!!!!!!!!!!! It is pure addiction. I am yet to figure out many things…and explore the android world…but till then…I am happy experimenting the camera…the music player…and the browser.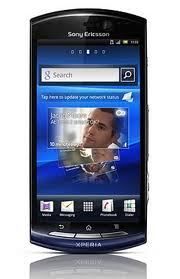 NEO……
And for the best one now……I won a handmade card…thank you Preeti….the cards were so pretty….and I really wanted one of those….and now I am going to get it soon….I still can't believe it…
Life is filled with so many surprises…and I am grateful to GOD for this beautiful life.
That's all for now….my NEO is calling me….so byeeeeeee!!!!!!
Take care and GOD bless!!!
Love
Gayu