So the vacations are over and the school has started. Samu is FIVE years old, I can't believe, the cute little darling has grown up so fast. These five years were really an eye-opener to me. There are many things which I understood after becoming a mother. In these five years I've come across people who sent me on a guilty trip (as I am a working MOM), many who told me "What I should do…and what I am not supposed to do".
I admit that I am not perfect and I don't wish to be. With Samu around I've become a lot more patient, but there are times when I do lose control and I end up shouting at her.
This is not a vent out post, but this is for all the SAHM (stay at home mothers) and WM (working moms).
SAHM's please note:
· Just because I work, doesn't mean that I don't love my daughter.
· Yes, my daughter is slim, but that has nothing to do with me being working. Though she is slim, she is healthy and I am quite happy with that.
· Just because you are at home, doesn't mean that you spend quality time with your child. (I know you are a big time fan of those stupid Saas Bahu serials )
· I don't force my daughter to write 3 to 4 pages of ABC and 123. I am happy with whatever she does.
· I don't have the time to sit and gossip with you, I am happy with the way things are. I don't wish to crib, if I can't change things.
WM's for you:
· Please don't go on a guilty trip, just because a SAHM passed a loose comment. We have better work to do.
· You are not a super woman, please admit that. There may be times when you forgot to give that science journal to your child or do some Maths homework. It's perfectly fine, don't take it too personally. Make sure you set reminders to avoid such mistakes next time
· Involving children in some small household tasks is not a big crime. Let people say what they want, learn to IGNORE them. Samu loves folding her clothes and arranging her toys (though it depends on her moodJ)
· Ask help in case you are facing difficulty, there is nothing wrong in that.
· Children will fall ill at times, but just know that it is a phase and it will pass.
And to all the PARENTS out there, you all are doing a great job. I now understand how difficult it would have been for my Dad, as I was a fussy eater, cranky and totally lazy baby. I called my Dad on father's day and thanked him for all the things he did for me. Appa I love you loadsJ
This is what Samu made for her Dada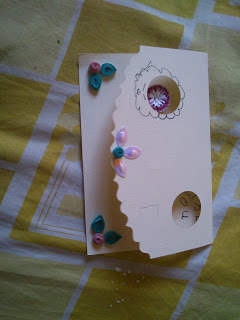 Quiling done by Samu

Fringed flower made by me, rest done by Samu. Colour combination aslo suggested by her
PS: Now I will get some "ME" time….and I can write more:)
So how is it at your end guys..??? Do let me know
Keep smiling and God bless
Gayu