Hey guys, updated the
food blog
after so many months. Here is the latest recipe. Do try and let me know how it turned out to be:)
Here's the link
http://bornfoodie.blogspot.com/2012/06/paneer-kaju-pasanda.html
The rain gods have finally shown some mercy…and the climate in Mumbai has cooled a bit…!!! I love rains, the freshness it brings,everything around turns so lively…I mean…its just amazing. Its a miracle…don't you feel so..???
This is a pic of Rajmachi Trekking which I did in June 2010.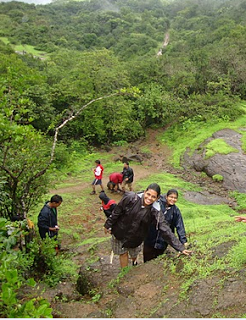 Rajmachi is a wonderful place for trekking
Here's a small note to my favourite season:)
Thunder,thunder…I hear you,
Pour droplets…though they are few,
Quench our thirst,
And let us cool,
Come dear rain…
We eagerly wait…!!!
Which is your favourite season…and Why????
Do share with me your experiences.
Love
Gayu