"There is always, always, always something to
be thankful for." –Author Unknown
It's been a
week I updated the gratitude series. Last week, my hubby, Samu and MIL met with
a bike accident. Luckily it was a minor accident, however, Samu got severely hurt just near her eyes, and was down
with fever. MIL got a catch in her back and hubby hurt his knees. I took off
from my work and was at home with Samu.
Samu could barely talk, she missed the
Navratri Garba, she missed her school exams, but what I missed the most, was
her smile, her non-stop questions, her chirpiness. The entire week the house
was on mute mode.
Amidst all
this also here are the few things I am grateful for, I noted these daily in my journal. Today, I would like to share those with you here.
I am truly grateful that the
accident was a minor one and my family is safe.
I am truly grateful to the
people, who came to help my hubby after the accident. It shows that humanity
still exists.
I am truly grateful to the nurses
and the doctor who attended my daughter immediately.
I am truly grateful to my
daughter. She didn't cry and co-operated with the doctor and nurses. The doctor
said that children tend to become cranky under such circumstances.
I am truly grateful to Samu's
class teacher, who enquired about her every day.
I am truly grateful to Samu's
friend Palak, who came everyday to meet her and play with her, just so that she
would feel better. Samu doesn't know what friendship is yet, but such small
acts lay the foundation of strong relationships.
I am truly grateful to Palak's
parents, who sent her everyday to our house.
I am truly grateful to my MIL. Inspite
of getting hurt, she managed to prepare a full course meal consisting of
Puranpoli, Puri-bhaji, Shrikand for Daserra.
I am truly grateful to all my
friends, for their prayers and blessings. Samu is much better now. Hubby is worried
about the scar on her face, but I know with time, it will heal.
I am truly grateful to Prema and
Kalpana for being there with me. Their messages comforted me, and gave me the much-needed
positivity.
I am truly grateful to my team at
work; they handled things perfectly in my absence.
I am truly grateful for my
health. The moment when we are sick or people around us are sick, we realize the
importance of our health.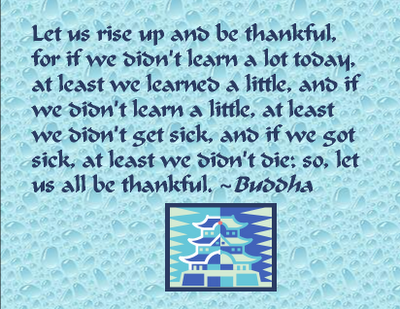 If
you wish to participate all you need to do is follow these rules:
Everyday write about the things you are
grateful for (it maybe in your blog or in your personal journal, not
necessary that you write ten things.)
Do post your link in the comment box, if you
have a blog and have started this therapy.
You can even post pictures, in case you are
unable to write.
Keep
Smiling and be Grateful,
Gayatri