"Some people grumble that roses have thorns;
I am grateful that thorns have roses."- Alphonse Karr
Truly a significant
thought, isn't it? If we could perceive things in the light of gratitude, life would
be so fulfilling. Every event, relationship, or outcome teaches us something profound.
Life is a journey and in this journey we meet so many people with diverse
cultural backgrounds, different thought process, yet at some point, we do feel
a strange connection with them. This happens because, each one of us is unique,
and we can learn so much from each other's lives.
Today's post
is a dedication to that one special relationship which changed my attitude
towards life completely. I met him eight years back; I was just 21 then and he
29. We both were poles apart, he being always calm and somewhat shy while me, a
bubbly and crazy personality. But as they say, 'opposites attract', we both
were drawn towards each other. This attraction blossomed into love within few
months. At that point, I was not aware that LOVE and MARRIAGE were two completely
different worlds. When we are in love, we tend to overlook the imperfections,
however once married, we end up fighting for the most stupid reasons.
The past
eight years were equally difficult for Swapnil and me. We fought, we learnt to
let go, he handled my tantrums while I tackled his ego. Each day brought
a new challenge, as we both were from different cultural backgrounds. Amidst these
challenges, our love and respect for each other grew.
I am truly
grateful to have him in my life. My outlook towards love and life changed
completely, thanks to him. Swapnil celebrated his birthday on 29th
October, and this gratitude note was a gift for him.
I am truly
grateful to HIM, for being patient with me. I at times, go out of control
completely. There were even times, when I fought and even said, "I was better
off single". I admire the way he handled such situations.
I am truly
grateful to HIM, for giving me my space, for letting me grow as an individual. In
a marriage it's very important for the couples to carve a niche for themselves,
in order to maintain their individuality.
I am truly
grateful to HIM, to have taught me that my happiness is wholly in my hands and not
bound by anybody's behavior.
I am truly grateful to HIM, for all the small
things he does for me, be it watering the plants, or downloading my favorite
songs, these small acts matter a lot to me.
I am truly
grateful to HIM, for motivating me, when I am stuck up with a difficult
research. At times words comfort you and increase your productivity.
I am truly
grateful to his positive attitude. With his support, I know that I scale to
greater heights.
I am truly grateful to his uncomplaining personality.
I have never seen him crib about anything. Let it be work, personal life or
anything for that matter. He strongly believes that cribbing will never change
a situation. We need to work out a solution, or else accept the situation and
move on.
I am truly
grateful for his support and involvement as a father. I love watching the dad-daughter
duo playing, dancing, and making up stories.
I guess it's
enough, the post is becoming too sweet and filmy, hai na. We all have differences,
but what matters is our attitude towards those differences.
Today I would
want you guys to do a small exercise. Think about that one relationship/person,
which/who taught you many things. Be grateful and do share your experiences
with me.
If
you wish to participate all you need to do is follow these rules:
Everyday write about the things you are
grateful for (it maybe in your blog or in your personal journal, not
necessary that you write ten things.)
Do post your link in the comment box, if you
have a blog and have started this therapy.
You can even post pictures, in case you are
unable to write.
Keep
Smiling and be Grateful,
Gayatri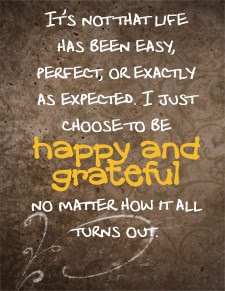 PS:
The gratitude therapy has opened new doors for me and I would like to keep it
going. I will be doing it weekly, from next week onwards. Thanks for all your
support and comments.