Where do I
start, what do I write, I am totally blank from last four days. I haven't spent
much time on FB, nor have read blogs. The
plaster is removed
and I can walk
now, but then I limp and the moment I am in my building garden, struggling to
take few steps, the agony aunts hover around me, asking the details of my
fracture, and that I have gained some weight and how much I need to take care
after a fracture. Huh… I simply don't feel like interacting with them, all I
want right now is to be left alone. I have three books in hand to read, but I haven't
touched them yet. And then there is Dabanng 2, Christmas parties around and so
much hustle-bustle….but then all I want is to be alone, with my thoughts.
Right now as
I type this, I don't believe that just 4 hours, 12 minutes can change your
outlook towards life, relationships, love and above all it will make you take
steps which you thought you could never ever take.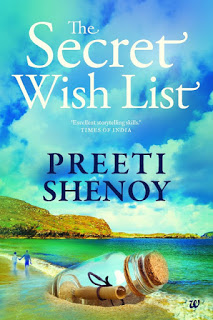 Friday, 21st
December 2012, early morning at 2:42 to be precise, I finished reading the much
awaited book 'The Secret Wishlist' by Preeti Shenoy. Her books always revolve around the complexities of Friendships, Love, Relationships and Life.
Her books are written is simple yet effective language, a language that will
touch your heart and the characters, they seem to be so real, that they will surely
leave their footprints in your life. Preeti is a keen observer and she portrays
those million unexplainable feelings in her words with ease.
Her earlier
two books did have a significant impact on me, you can read the reviews
here
and
here
, but then this time around it's totally different. I am completely
shaken, and for last four days all I am doing is an
Audit
of my life, as if it were to end in few days.
'The SecretWishlist' revolves around the life of Diksha, who kissed a guy (whom she loved),
at the age of 16. She is blown away by the tenderness of Love, she feels at home with the guy, but little did she know that
this one act was about to change her whole life.
This book will
take you down the memory lane, to the moments you spent with your best friends,
to the crushes you had in school days, to the silly time-pass that you must
have done and for a fraction of second, you will feel as if you are re-living
those moments again. It's a feeling I can't express and I don't wish to let go
off these feelings.
That's the reason, why I wished to be left
alone. The way Diksha's life unfolds is something very universal, and I guess all
married women at some point of their life, do feel left out and taken for granted.
But, the way
Diksha deals with it is what makes the difference and makes this story unique.
Preeti has yet again weaved a story which teaches us that, will-power,
determination, love and hope can alter our lives beyond imagination. Having read 'The Secret
Wishlist' in just 4hrs12 mins , I must say…it's one of Preeti's BESTEST!
This book is
a wakeup call to listen to our hearts and follow the path, which we want. There
will be many who will be against us, who may not believe in what we wish to do,
but then if we have the faith, the dark clouds of doubt will surely vanish. It is
a must read for parents, who force their dreams on children and who bother more
about the society. It is a must read for guys also, their outlook towards
relationships will surely change.
There are
just 7 days for this year to end….take a look at how your life is today, take a look at how it was and just think how
you wish it was. Think of all the things that are holding you back, think
of the risks which you can take and think of all the relationships that you can
mend.
Here's
leaving you guys with few of the lines, which have made an incredible mark on
me.
"We all must
live our lives. We should do what makes us happy."

"But if you
don't even know what you truly want from life, how can you ever hope to obtain
it? How can you give up on life? Do you want to continue to resign yourself to
your so-called fate?"
So time to
take charge of your lives, grab a copy of this book and get ready to listen to
your inner-voice and don't forget to pen down your 'Wishlist'.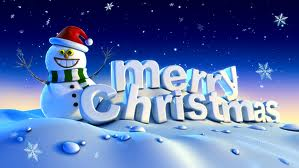 Wish you all a Merry Christmas…!
Be positive, be grateful
Gayu