During my
school days, I was hooked to a serial called '
I dream of Jeannie'
. I also
wished to have a Jeannie, who would remember the Maths formulas and who would
attend my Art classes. I hated Mathematics, I still struggle with numbers and
Drawing was never my cup of tea.
I still
remember the way, Mrs.Kulkarni; my drawing teacher taught me those free-hand
designs and still life drawings. Maybe I was the only student who never loved painting
and art. However, with time, we change, our preferences change.
I owe this
complete change to just one person and that is my 5-yr old daughter. She is
reason behind my creativity. I started to explore the areas, which I feared.
I
started experimenting new recipes and by doing so, I fell in love with cooking.
I started learning paper crafts and
Quilling
became a passion. Samu loves to
listen to stories, for her I started to read more and I fell in love with the
blogsworld.
To record each of her milestones, I started writing and in this
journey, I have made some wonderful friends,
Preeti
,
Privy
,
Jack,
Meera
and
KP
.
Yesterday, 12.12.12,
I took the biggest challenge, I drew few pictures. Here are my creations. To
say I was happy would be an understatement. I still can't believe, I drew these.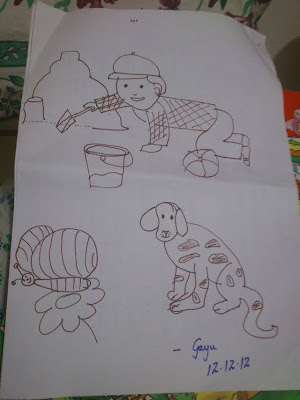 For others this would be very simple, but for me this is a big achievement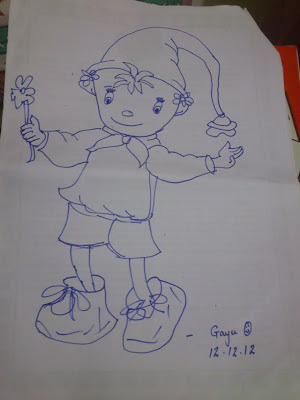 I wish to
show these to Kulkarni teacher, but for now, I am sharing this with you guys
here. Did you like it…?
And coming
back to Jeannie and wishes, Preeti Shenoy has come up with a creative funda '
WishlistWednesday s'
. I am totally in awe of this woman, she is a fulltime mother,
wife, yoga buff, artist, card-maker, author, blogger and the list continues. I
wonder if God has granted her some extra hours.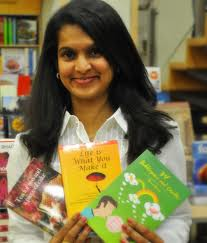 Her three babies
An author of three best sellers, she is back again with a new tale of Love, Friendship and the courage to follow your heart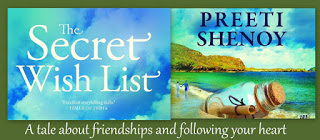 The creative
prompt for this week is
The three things I badly wish I
could have are…………………………….
Patience, I need loads and loads of that, especially with the kind of people I deal with, I need that.

I wish to raise my daughter to be a compassionate human being and inculcate right values in her.

I wish to take baby steps and make my dream come true. (It's a secret, so can't share it right now).
Apart from this, there are many more
things I want (yay, I am greedy).
I wish to meet all my lovely blogger friends, especially Preeti Shenoy.

I wish to work on all my relationships and learn to let go.

I wish to go on a road trip to Leh Ladakh.

I wish to learn a form of dance (I will be enrolling for a class, as soon as the doctor gives a green signal)

I wish to learn a musical instrument (Guitar/Violin)

I wish to join drawing classes and create paintings.

I wish to join the Teach for India movement and contribute something to the society.
Hopefully, I will fulfill some of
the above in 2013. Now go ahead, take the prompt, and don't forget to order
Preeti's book from
Flipkart
. Join the fun on
Facebook
and wish her luck.
Have a great day ahead…!
Be Positive and be Grateful,
Gayu
*Song of the moment*-
Can we pretend that airplanes
In the night sky
Are like shooting stars?
I could really use a wish right now, wish right now…!