Dearest Darling Samu,
These little moments make me love you more my dear!
I was feeling very low since morning….I didn't know the reason though. But then now as I mother, I have so many stuff to do, so I packed my daughters Tiffin, gave her milk and then just sat to read the newspaper.
Samu: Mamma aap bahut sad lag rahe ho.
Me: No dear, bilkul nahi and I give her a smile.
Samu: Na, yeh to Mamma wali smile nahi hai.
And then she comes near me and gives me a tight hug….at that very moment a teardrop kisses my cheeks.
Samu: Dekha, I tell na…you sad. Now Smile, I am there na Mamma.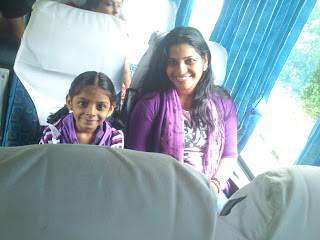 I love this pic…as we both are in purple (Our fav colour)
Who said only mothers can understand the feelings of children!
Lots of Love,
Mamma