It's V-Day today, a day when I started the blog two years back! Yes…I still can't believe that I completed two years in the virtual world, wrote 175 posts and have 26 followers! My blog is a part of me, my thoughts, my concerns, it's a place to voice my opinions and vent my frustration. My blog has given me some wonderful friends,it has taught me many things and overall, I have grown as a person in these two years.
I need not fake, I need not be someone else…this place is like a 'HOME' to me! I truly love to read your comments and the FB likes and comments also motivate me to write more. Some love my poems, some like the motivational stuff and some like to read the fun I have with Samu.
I've gone through many stressful situations and believe me each of us out there have been through lot of struggles. And it is the intensity of the problem…that challenges us to search for a solution and makes us a 'Hero'! Just take the examples of movies like, 'Sholay' 'Deewar and 'Shaan'…the 'bad guys' always make an impact. Mogambo and Shakaal are our all-time favourites. Even fairy tales and the mythological stories revolve around the concept of 'Good' and 'Evil'.
That is the beauty of life…in order to be a 'Hero'…we have to fight with umpteen villains in our life, at times it's the people…situations and at times it our own thinking.
This Valentine day, love yourself for what you are, love all the people around you…no matter how they behave…no matter what they do. You cannot change situations and people…but you can surely change your thoughts…and that's what I urge you to do…and 'DO IT NOW'!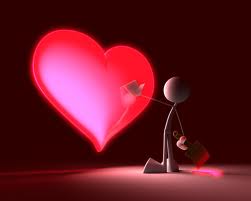 Happy Valentine's Day to all my blog readers!
Be positive, be grateful
Love,
Gayu