Scene-1
6:30 am: You are getting late for office and you cannot find your socks, that lovely pair of earrings or specifically your white duppata.
You open your wardrobe, and struggle to locate your stuff, and the whole stuff falls off.
Scene-2
10:57 am: Your boss is at your desk and you both have a meeting scheduled with a client at 11 am. You struggle to trace that particular email from your client, from your Inbox, which has around 1500 mails, phew! The look on your bosses face calls for a 'Kodak Moment'
Scene-3
Your parents, especially your Mom, keeps yelling at you, to clear the study table, to put your shoes on the rack, to keep things organized.
Can you all relate to the above mentioned scenes? If yes, this post is definitely for you and if no, then this post will ensure that you seldom face such situations. When we are unable to locate our things, we get frustrated; we waste time in searching for things, when we can actually be doing something productive.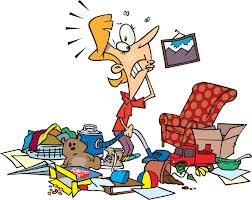 Google Images
'Clutter' as we all know is 'Mess' or 'Things placed disorderly'. Our wardrobes, closets, drawers, study tables, inbox all these become cluttered with passage of time. We keep dumping things one over the other and if overlooked, then after a certain time, the mess surrounds us in various ways.
5S
is basically a Japanese work-place arrangement methodology, which when followed diligently, increases efficiency, productivity and helps in optimum utilization of resources. You can read more about its origin,
http://en.wikipedia.org/wiki/5S_(methodology)
This concept was introduced to me by the lean management team, in our office. I've been practicing this since last two years and I can assure you that this technique works wonders.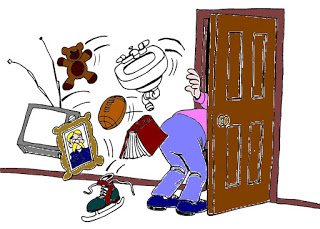 Google Images
This technique consists of following a 5-step procedure or the 5-S for an efficient workplace organization. The 5-S methodology is something which we subconsciously follow in our everyday lives. This is a very helpful technique, both in our professional and personal lives. 'Clutter' surrounds us, in our home, office and also can also in our mind. This post emphasizes on both the aspects.
For understanding purposes, I have divided the post into 5 parts. The first part is about the First S-SORT:
Sort your Professional Life
Ø Identify the items that are necessary for day today use:
· Keep only those emails which needs to be actioned in your Inbox
· Stationery
· Note-pads
· Files
Ø Maintain a storage place to put away things that are not used frequently:
· Maintain Name-wise/Team-wise folders in your Inbox, to store actioned emails
· Compress huge files, which will again save Drive space.
· Maintain separate files for Old bills/Receipts/Tax Returns
· Keep a storage box and put away any decoration items, specifically used during festive season.
Ø Discard the things, which are not used/broken
· Broken staplers/pens/pencils/rulers/sharpeners/mugs.
· Old SOP's (Standard Operating Procedures)/Training modules.
Sort your Home
Ø Identify the items that are necessary for day today use:
· Keep only required number of plates/spoons/cups in the kitchen trolleys
· Maintain separate containers, to store the stuff that is required daily.
· Keep the bills that need to be paid in a separate file.
Ø Discard the things, which are not used/broken:
· Broken knifes/containers/mugs/plates.
· Crockery not used can be exchanged in stores, to purchase something useful.
· Clothes which don't fit/torn can be given away.
· Sell the old bottles/tins/cans/newspapers/magazines.
· Donate books to library/children.
Ø Maintain a storage place to put away things that are not used frequently:
· Special cutlery/mugs/big containers can be packed properly and stored in the attic.
· Your blazers/party-wear sarees/leather boots needs to be stored neatly in boxes/Saree covers.
· Festival decoration items, needs to be packed properly in boxes and stored in the attic.
· Important documents and Utility bills need to filed properly and stored.
Sort your Mind
Ø Identify your thoughts:
· Write down your thoughts, it could be anything, write it down.
· Then think about your goals/mission.
· Focus on those thoughts that will lead to your goal.
· Device plans to achieve your goals.
· Work towards your goals, it could be a small step, however, take that step.
Ø Discard that which is unnecessary:
· Broken relationships are a burden, there is no point in holding onto them, let go.
· Negative thoughts, will surely come to visit you, however, you have the power to shut the door.
· Ensure that you are not carrying unnecessary garbage of what people will think/why someone behaved rudely.
· Things which didn't go as per your plan/things where you failed, no point in dwelling on those, learn from those events and let them go.
Ø Maintain a Journal:
· Keep a journal/diary to pour out your feelings.
· Practice Gratitude while writing your feelings.
Go ahead and SORT your Life, with the first S. Tomorrow we will speak more about the second S- Set in Order.
What are your views about this 5S technique? How do you clear the clutter around you?
Share your views, I am here waitingJ
Be Positive, Be grateful,
Keep Smiling!
Gayu