"I'm not the smartest
fellow in the world, but I can sure pick smart colleagues."-
Franklin D. Roosevelt
However, in my
case, there was no need for me to pick my colleagues. It was quite easy; the
bonding just happened and I ended up with like minded, fun loving and crazy
people like me. If you are/were working, you would surely understand the
importance of a 'Team' and 'Colleagues'. We spend almost 8-10 hours
with our office colleagues and team, so they play a very important role in
moulding you as a person. It is highly essential that you surround yourself,
with positive, enthusiastic and self-motivated people. Once you are successful
in doing this, relationships just unfold and the bonding starts. However, there
is nothing permanent in this journey of life, we have to grow, and for this
maybe some of them may bid you farewell eventually. And that's when, it
hurts…seriously….it hurts!
When I had left
my previous organization Compass BPO (now Aditya Birla Minacs), I remember
crying continuously for three days. I couldn't control myself; I became quiet,
lost in my thoughts and numb. My best friend Prema, my team, the canteen, the
moments shared, they all used to keep flashing in front of me, the moment I
closed my eyes. It was a difficult phase, however, with time I was okay.
Now, for last four years, I am in a new
organization. If you follow me on FaceBook, you would know how much I love my
team. They are a bunch of insane people, to tell you the truth. They have stood
by me, during my highs and lows, they have handled my tantrums, my non-stop
chatter and of course my poor jokes. I really owe my sanity to them.
Yesterday, we bid farewell to one of my colleagues.
I had previously
penned a poem for her
. She was the first girlfriend, I made in
my current organization. Before that it was just me and my Team Leader, Suresh.
The three of us, gelled around so well, it was like we knew each other for
ages. It was an altogether different bond, we spoke about everything under the
sun, and we went for movies, lunch dates and clubbing. It was super fun! The
comfort level that I share with Suresh and Priyanka, is something beyond words.
They know the minute details of my life, one look at my face and they can make
out, there's something wrong, that's the level of bonding we share. No matter
what time of the day, I know I can call them. They will be available for me.
They will make time for me, I know that. We have seen the vulnerable side of
each other, stood by difficult moments and spent amazing time together
However, I know, things change and they
change for the better. Priyanka is getting married, and is about to enter a
whole new world. Do wish her luck and say a small prayer!
Here are some snapshots from our journey!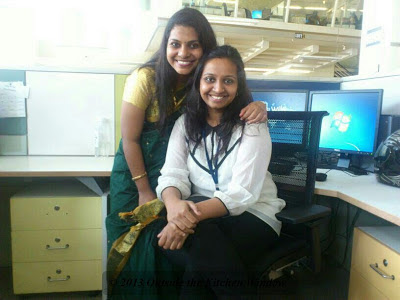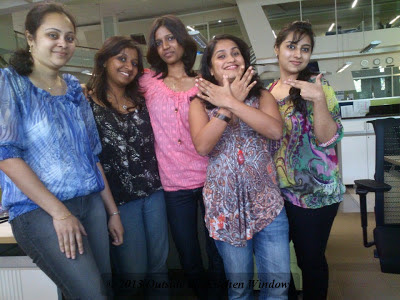 the other buch of crazyyyyy people!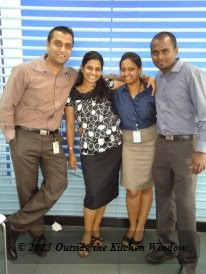 Suresh, Me, Priyanka, Marshal

And some words I penned for her:)
Some say, 'people come and go'
Some say, 'we need to go with the flow'
Some say, 'change is the only thing constant'
Some say,' nothing is permanent'
Some say,' out of sight is out of mind'
Some say, 'life goes on'
I know all this is true….
But still….it hurts, to leave u…
I just wish to say,
No matter how many come n go,
There won't be another you,
And I admit I will so miss u!!!!
Do
you believe that colleagues influence our thinking? Have you ever shared such a
bonding? Do share your experiences.
Be positive, Be Grateful
Love,
Gayu
*Song of the moment*- Baas yaadien, yaadein…yaadein reh jati hai, choti choti…baatein reh jati hai! Purani jeans aur guitar!!!!