It was a typical Sunday morning.
I was just lazing around with my cuppa coffee, when my sister called. She was
super excited, as she gave me the news that a Software Engineer from Kalyan is
an author of two books. My first thought was, "Oh it must be some IIT guy, and he
must have penned down his love story." However, I was completely wrong. Things
are not always, the way we presume.
I immediately Googled his name,
'Author Dipen Ambalia', and I came to know about his books. My curiosity
increased when I learnt that he had penned a satire and was a big fan of
ScottAdams
, the Dilbert Principle fame. I took this as an opportunity and visited my
local library to get his books. Unfortunately or fortunately, I couldn't get
his books. That's when I visited his FB profile and messaged him, about my
interest in reading his books.
He immediately replied to my
message and we decided to meet the coming Saturday. I was so delighted to recieve signed copies of his books 'In their shoes' and 'LOSER' .
His first book is a collection
of 17 real life stories that strike a chord directly. We are engrossed in our
lives, our troubles, we crib about the AC not working, the maid not coming, we
get irritated when the food is not warm, however we fail to recognize the
umpteen gifts life has endowed upon us. If we just shift our focus from 'Our so-called difficult life' and look
into the lives of people around us, we will be grateful for what we have. There
is Bindiya a drummers daughter, a struggling writer, a sadhu baba and even a bar dancer. Dipen's USP is his lucid
language, with a mix of Hindi phrases. This 'Hinglish' style gives the 'real touch'.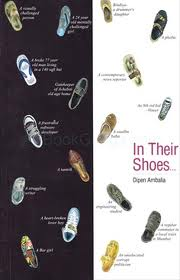 While, his first book made me
somewhat emotional, his second book LOSER was a light read. He had put forth the life of a
Software Engineer sarcastically. I could connect so well with some chapters,
like Presentations and Google. There were some parts in the book, which I could
not connect and that was purely because I am not from the software field. The
book gave away the secrets of an IT professional's life, the On-site projects and the salary packages.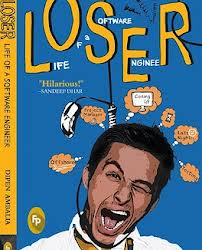 I know Dipen for the past one
year and in September 2012; he broke the news about his third book
To B.E or not To B.E
. This time
he was about to target the poor Engineering students, the
'3 Idiots'
type. He mailed me most of the chapters, and I would
keep asking him when the final book would be out. He was really testing my
patience, as I couldn't wait for the printed book. Finally, I received the much
awaited book yesterday. Reading a word document and actually reading the final
printed book is so different. I finished reading the book in 5 hours. The
illustrations done by
Shreyas Navare
are super amazing. They bring life to each of the
chapters. The way Dipen analyzes the life of an Engineering student is truly commendable. I could so connect to the
Daughter-in-law and Engineering student funda.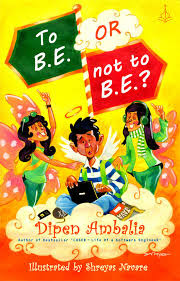 The book is will surely take
you down the memory lane, to your college days, your crushes, teachers, ragging,
canteen, hostel, viva etc. There are some chapters, which you may not be able
to relate to, if you are not an Engineering student. However, ignoring that
little bit, all I can say is this book will make you nostalgic, make you think
and also make you smile!
If you are bored of chick lit, typical love stories, can't handle the serious self-help
books or have just started reading, then go for this one!! You can order your copy from his website –http://www.tobeornottobe.in/to-be-or-not-to-be.html
Be Positive, Be Grateful
Love,
Gayu