Hello lovely
people out there, I am very sorry for such a long break. I had been to Goa for
a short trip. We stayed at this beautiful home stay (detailed review soon). It
was a much needed break. The climate in Goa was quite pleasant. There is
something special about Goa; the beaches keep calling me again and again. After
the visit, I've decided to make some changes in my daily routine.
We all begin
our day with some specific goals, like to get up at 6am, or eat healthy food or
watch less TV. However, as the day
progresses, what happens to this, we end up eating Subway Sandwich and French
Fries, we snooze the alarm and sleep till 9am or we are hooked to that daily
soap.
What happens
the next day, we start beating ourselves (not in the literal sense) for not
being able to achieve the goal. "You can never get up at 6am", "You can never eat
healthy food", these are statements we keep repeating. The more we repeat, the
more it becomes difficult to start afresh.
This is
phase we all go through, especially if we are focusing to change or acquire new
habit. I am no exception to this. For the past six months, I am battling with
my weight; I gained around 8 kilos after my fracture and 45 days bed rest. I
was quite successful in reducing first four kilos, however, for the past two months;
my weight refuses to fall below 68. Like an adamant child, it continues to stay
there. The moment, I introduce a fruit, the little child in me starts to throw
a tantrum, and at the end, I give up. I am a total foodie and dieting is the
last thing that I can do.
However, it's
high time, that I bring in some change. I wish to gift myself a healthy weight,
by my birthday. I plan to take one step at a time and start small yet significant
changes in my daily routine. I shall update my blog, every Monday, with the
changes and the benefits of the changes.
Today was
the first day of the challenge.
The climate was cool in the morning, and I didn't
want to leave the comfort of my bed, however, I had to. I got up reluctantly and went for a 2km walk. My
body was not used to this new routine, so I decided to break the 1 hour walk,
into slots of 15-minutes. I walked for 15-min, then gave myself a 2-min break,
by listening to my favourite songs. This really worked. I came home, fresh and
smiling.
This week I
plan to continue the walk routine. Next week, I shall introduce one more
healthy habit.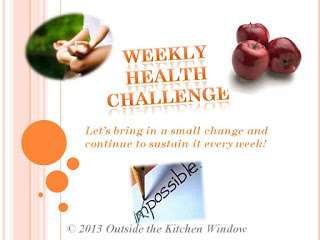 Do join me in
this challenge, all you need to do it, start a small change, it could be
anything, getting up 15-min early, having breakfast, going for a walk, talking
up the stairs instead of lift, anything. Share it here in the comment box or on
my FB page.
Be positive,
be grateful!
Keep
smiling!!
Love,
Gayu