When the shadows of loneliness…
Engulfs your soul,
When you feel left out,
When you feel unloved,
When you feel unwanted,
Close your eyes and talk to me,
I shall listen,
To your dreams,
To your fears,
To your fantasies,
Just quiet your mind,
Let go of everything,
Let me guide you,
Let me take the lead,
Let me show you the opportunities,
I've always been there for you
And will continue to be your support
Just once, close your eyes
And talk to me.
I am here…listening to you!
There is a little voice
inside us that tells, 'You can achieve great things in life' or 'The situation
is not that worst, you can face it' or 'Life is indeed beautiful'. And there is
another voice, which tells, 'Life is unfair', 'You will fail, no point in
trying' or 'You cannot achieve it, it's just a dream'. Have you paid attention
to this little voice? You don't have time, right. Yes, you are so busy catering
to the needs of near and dear ones that you seldom listen to this voice.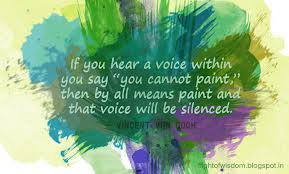 Google Images
At times, people term it as the 'gut feeling'. Your inner voice
is the best guide you can ever have in your life. It yearns to speak to you
every day; however, we are too busy following a rut, aren't we?
Here's a small guide (based on my experiences) on how you can
listen to your inner voice
Meditation: This is one
word, which is a night mare for many. When I say, I meditate; people think that
I am too religious or spiritual. However for me meditation is a way of
silencing your mind. All you need is a quiet place and 2 minutes of your day.
Just close your eyes, relax your body muscles and watch your thoughts pass. Let
them go, don't try to hold them. To begin with, do this for 2 minutes, later
you can increase the time (15-45mins).
Be Mindful: This moment,
as I type this line, there is inner conversation going on. This is called
'Self-talk'. We all indulge in self-talk. We keep bashing ourselves for our
past mistakes and worrying about the future uncertainties. However, in order to
listen to our inner voice, we need to watch our thoughts. Start observing your
thoughts.
What kind of conversation do you indulge in? Is it affirmative or
negative? Write down your thoughts in a piece of paper. This will make sure
that your cup is empty and you can fill in new positive thoughts.
Cultivate a hobby: We are very
busy these days, with our full-time jobs, family, social life and other
commitments, that we hardly have time for our hobbies. Do something for
yourself, spend some 'Me' time and so things that you love.
It could be
reading, dancing, gardening, trekking, playing indoor games, outdoor sports,
writing, photography, travelling cooking or fishing. Explore new areas; you
will be amazed by the talent that is in store. I've recently joined Kathak
classes and I must say, the 2 hours I spend there, is truly amazing.
Trust: This is a very
powerful word. We as individuals easily believe when someone says something
negative about us, however, we take time to accept the positive aspects of our
personality.
Start trusting your inner voice, when it says, 'you played well'
or 'you handled the client exceptionally'. Let go of the shackles that hold
you, trust that gut feeling and take risks. It's high time you change!
Be grateful: The maid
didn't turn up, the trains are running late, children didn't clear the table
and parents pressurizing for marriage. There will be lot of things to complain
about, however, shift the focus from what's going wrong, to what's
going right.
Be grateful for all that you already have. Your good health,
family, friends, job are all your gifts from the Universe, never take them for
granted.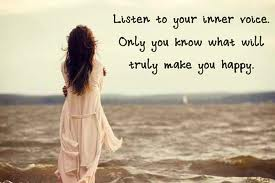 Google Images
How do you unwind yourself and listen to your inner voice? Share
your views with me.
Be positive,
Be grateful,
Keep Smiling,
Gayu