After a
super excitingDay-1
, I was all geared up for Day-2. I did my homework perfectly for the first
time ever. I practiced the techniques taught (Pacing and Leading), with my
hubby and daughter and to say that I was surprised would be an understatement.
The results were immediate and I was overwhelmed…
So, we move ahead to the
next day…exploring new ways with
uPwithNLP
Day2: 23rd July 2013
Venue: The Lalit, Andheri
(W)
I
was more comfortable and it felt so homely. It was just Day 2, yet it felt as
if we knew each other since ages. We were busy discussing about our homework,
when Harini entered and greeted us with her mesmerizing smile. Today we were
about to discover more about ourselves and the other participants.
"Now
for a moment, think about an Apple.", Harini said.
We
all followed.
"Now
when you thought about an Apple, you would have seen an image of an Apple, some
of you might have seen the Apple Logo, some an Apple tree. Some might have seen
a Green Apple, some Red, and some Bright Red', Harini exclaimed.
"Isn't
it strange, that a mere thought of an Apple, brings such different visuals in
the minds of different people?" she said
Yes,
it is, I thought and that's how it is for each of life's situations. At any
given point, we think in Images, we hear Sounds and we feel certain Feelings.
To demonstrate it, Antano, asked us to pick up any event from our past, which
bothered us, and I took up a particular event from my childhood.
"I
hear a sound say that I am unlucky", I said
"Whose
voice is it?" Antano asked
"My
mother's", I replied
He
asked me to close my eyes and focus on the sound and the moment I started to do
that, he made a funny sound. It disturbed me at first; he made that funny sound
again. This time the funny sound actually helped release my tension and hurt. He
kept on making that funny sound, till the time, I smiled. Yes, I smiled and
after a moment, started laughing, yeah…strange. Antano mentioned the word 'Unlucky' and guess what, I started
smiling and I am still smiling, as I type this. From that day on, all the 'Lucky'
things are happening to me…. 'Lucky' me J
Sounds
simple, right, it indeed is simple!
We
carry so many baggages from the past, years of hurt, ego clashes of who said
what and who was right and who was wrong, don't we? However, with this simple
NLP technique of changing Sub-modalities, it all dissolves within few moments.
Sounds like Magic, isn't it? It indeed is MAGIC!
Day2
transformed me beyond expectations….and yes…it was just the beginning….
You
ought to experience this Magic for yourself and for that; you may wanna enrol for
the uPwithNLP course,
here
.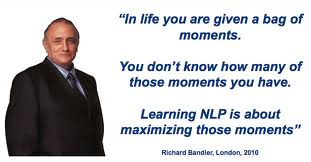 Keep
following my blog for more updates and do share your thoughts in the comment
box or on my
Face book page
or email me at
gs.aptekar84@gmail.com
. Eagerly
looking forward to your views…
Be
positive,
Be
grateful,
Keep
smiling,
Love,
Gayu