Today
is the last day of 2013 and tomorrow, we begin a New Year, with lots of hope,
smiles and dreams. Most of us make New Year Resolutions, only to scrap it off
after few months. We either lose interest or procrastinate or simply give up,
don't we? However, I have a little handbook,
'Life Mantras by a Life Coach'
which will ensure that you are on
the
right track
and focus on
accelerating
your growth, every single
day.
PreetiSubberwal
, brings you a some
insightful
mantras
which will not only inspire you, but will also urge you to take
positive action
. Preeti has shared some
profound lessons with us in a
Simple
and
Creative
way. I have always been
a fan of Self-help books as they have guided me, during the most challenging
times of my life. When I first read about Preeti Subberwal and her book on FaceBook
through The Readers Cosmos I knew, I had to read it, simply because of the
intriguing title. The second best thing about the book is the fabulous cover
design and the creative graphics throughout the book. The chapters are short
and to the point. The book gives you the most important tools to change your
mindset and empower your life, easily and quickly!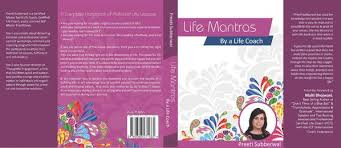 Preeti
emphasizes on the importance of finding your purpose, enriching your
relationships, building resilience and creating happiness forever, through life's
everyday experiences. She also inspires the readers to follow certain rituals,
which will in turn lay a strong foundation for a successful personal and
professional life.
This
book is a must read for people, who wish to upgrade their Life, clear the
confusion and make a lasting change, now! This book is a perfect gift for your
loved ones, as they set goals for the New Year with renewed hope. If you have teenagers
in your immediate family, then I highly recommend this book, for this will
surely guide them to build the career and life they desire.
I
would thank The Readers Cosmos and Preeti Subberwal for making this New Year
extra special for me! And as Preeti rightly said in her book, 'The right people
come into your life at the right time'!
This
New Year, achieve your Dreams and live a Fulfilling Life!
Do
you read Self-help books? Which are some of your favourites? Do share your
views with me, now!
Happy
reading!
Happy
reading!
Be
positive,
Be
grateful,
Keep
Smiling,
Love,
Gayu