Those who know me personally and follow me on
FaceBook, would also know that, I am super duper fan of books that revolve
around Love, Hope and Self-discovery. As much as I enjoy reading the works of my
favourite authors, I also look forward to read refreshing take of first time authors and blogger-turned-authors.
When Dr. Anuradha Prasad, approached me for reviewing her latest book, I had to
say a YES for the blurb and the cover
page hooked me instantly. A soothing cover, with the Mumbai Skyline and a Laptop, a Note-pad, a Teddy Bear, a Rose and a
Ring…Romantic!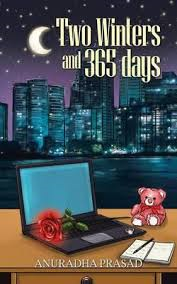 'Two Winters and 365 days', is a story of Ananya, who picks up the
remaining pieces of her crumbled life and turns it
into a masterpiece, with the power of hope, hard work, determination, courage
and the willingness to take action. Ananya, chooses a career path, where she has
nil experience, yet with her ability to learn, experiment and adapt, takes her
to unexpected levels of success. This story inspires us to believe in ourselves and in our talents, and when we do that
consistently, we will surely succeed.
The narration is quite descriptive and the
language, simple yet effective. Once you start reading, you will surely
complete the book in one sitting, as the story flows beautifully, with each
chapter unfolding, new challenges and twists and lessons. The author has
described the life of an editor of a magazine, effectively. The creative
challenges that an editor faces, the way they have to deal with the media and
the team politics. Anuradha, has also done some extensive research on subjects
like alternative healing, weight management and lifestyle magazines and this is clearly visible
in her narration. Maybe her journalism background, helped her with this.
Some parts of the book were predictable, however,
the strong narration, made it interesting. The author has highlighted many
quotes and paragraphs in BOLD. Maybe she had reasons to do that, however, I think
that could have been avoided. Apart from these two points, I found the book,
quite motivating.
The scenes that describe the mother-daughter love,
Vicky's feelings for Ananya and Ananya's speech, will surely make you emotional.
Ananya's story, tells us that Life does give second chances, if only we are
willing to look out for it and accept it.
I highly recommend this book; to everyone reading
my blog, for Ananya inspires us in many ways. Grab a copy of this book this weekend;
enjoy it with a cuppa coffee and some comforting music in the background!
Some of my favourite quotes from the book-
"You can lose something that you have; you
cannot lose something that you already are"
'There is something special in every person.
Don't ever underestimate anyone'
'Blessed he is who has found his vocation in
life'
About the Author
Dr Anuradha Prasad
is a post graduate in English literature and Phd( English) from Mumbai
University. She's a journalist by profession and has worked with Times Of
India and edited lifestyle magazines. She generally writes on
invitation for leading publications. This is her debut novel.
PS: Thank you Dr. Anuradha for sending me an
Author-signed copy for review!