The Blurb:
A prostitute turned
entrepreneur, who hires a ghost writer to make a biography.
A murder that she was
accused for and her vision to legalize prostitution completely in India.
A parallel conspiracy
that threatens her life and her vision. A forgotten tale of mermaid, that must
be told.
Time is ticking and
history would be altered. What would be the fate of Nazaqat?
Will she succeed in
her vision or she would end up as a victim?
The Blurb makes
the reader curious enough to read the story of Nazaqat. The cover design is
simply amazing and attracts the readers.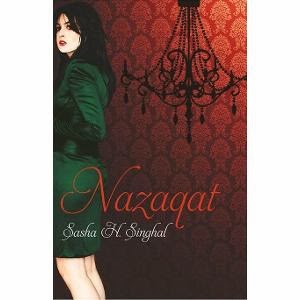 Nazaqat, just as the name sounds delicate and
different, the protagonist Naazani wins the heart of the readers through her
charm, confidence, determination and strong principles. While most girls are
pushed into prostitution by their family or for survival needs, Naazani chooses
this profession. To know how she enters this world, you need to read the book. Naazani
emerges as the modern Indian women, who breaks all the stereotypes, chooses her
lifestyle and inspires in her own unique way.
The story flows easily and each character is
well weaved. I especially liked Ishank's character, the humiliation, confusion
and betrayal is very well narrated. The description of Naazani's emotional
turmoil, especially after the raid incident, is highly commendable. Mathews,
the struggling writer and Sharat, Nazaqat's manager are also well portrayed.
The story is gripping till the end and the
end, oh! It surprises you. It took me some time to realise that the story had
ended and I am yet to come out of the hangover of a good story with influential
characters. Hats off to Sasha H.Singhal/ Harsh Agrawal for weaving a unique
plot with powerful narration, which provides a new perceptive about prostitution
in India.
Some powerful quotes from the book-
"Situations make people from all sorts of walks of life go against their
morals irrespective of their profession."
"Perfection is itself a perfect illusion"
"Its money which can make one dance like a dunce and I want to see this
law and shit dancing on the rhythm of fluttering notes."
And the best one…
"A slut is just a woman with morals of a man. That's it"
If you are an avid reader and would like to
read something out of the box, then you ought to pick up this book. So what are
you waiting for, order the book now from
Flipkart
,
Homeshop
and
Infibeam
.
PS: The one thing I missed in the book is the acknowledgements
section. I wanted to know more about the author, his support and his inspirations.
Be positive,
Be grateful,
Keep Smiling,
Gayu