Thanjavur
, a
place famous for Temples and its rich Culture, where thousands of tourists and
pilgrims visit every day, was once my home. My maternal grandparents stayed in there.
I was three months old, when my
Amma sent me there
and most of my blog readers,
by now, know my
childhood story
.
This place,
took me away from my sister and my Appa. The people there would blame and curse
me for I was born as a girl. They believed that I bought misfortune and the
five years, I spent there were really challenging. I was abused verbally,
emotionally and physically and all this, left me shattered by the age of five.
At times,
some places leave us with bitter memories or maybe it's not the place, it's the
people or maybe it's not even the people there. When you look back, you realise
that, it were the experiences that we have had at that particular place, that
act as an anchor and bring back those same feelings again. This anchor, when
revisited, is like scratching an old wound, which you thought was healed, but
then it still hurts. If someone would have sponsored a trip to Thanjavur, six
months ago, I would have never visited. The thought of that place itself, would
bring back those unwanted memories
and the not-so-good feelings.
I never
thought I could overcome these feelings, until; I came across the
uPwithNLP
course and learned that, I could rewire my brain in such a way that I could control
the effect these unwanted and unpleasant memories had on me. And guess what, I
have completely got over those memories. Now I have taught my brain to think
differently
about the unwanted events, places,
traumatic past experiences and people. And this has helped me to
let go
and given me the
freedom
to choose the way,
'How I want to respond'
to the past
experiences.
I am
planning to visit Thanjur this Diwali and I would share my experiences with you
all on my blog. Remember that events, places and people have no control over
you, unless you give them the authority and power to do so. Break-free the bondages of past experiences
and see how beautiful Life is!
Be positive,
Be
grateful,
Keep
Smiling,
Gayu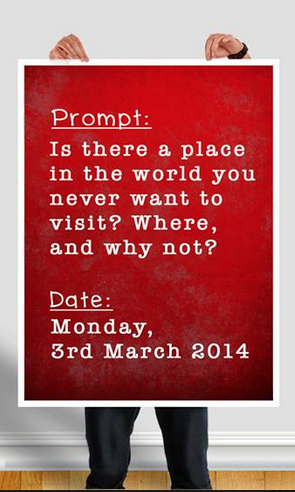 Source: WepostDaily
PS: This post is a part of the Project 365 prompt @
We Post Daily
. The free-prompt for
today is " Is there a place in the world you never want to visit? Where,
and why not?