January
2005
'Where is
my green dupatta', I yell as I dig myself into the Olive green Godrej cupboard.
My Chitti
(step-mom) comes to my rescue as she hands over the dupatta that I had left in
some remote corner of the living room.
"Within
fifteen days you would be someone's wife and daughter-in-law, then who will
come to search your duppatas and organize things for you", she asks, picking up
the pile of books from the table and placing them neatly in the bookshelves.
"Don't you
worry, I will handle it", I reply, totally unaware of what awaits me.
Appa and
Chitti were perfect at organizing things. The clothes neatly arranged in the cupboard,
books perfectly tucked away in the bookshelves, papers filed immediately, the
kitchen platform clean, with no trace of anything cooked in the morning. And I
was complete opposite. I was lazy and never really bothered to organize myself.
Anyways, Chitti was there for me, so why to take the pain, but little did I
know things would change in few months or years.
June 2005
"Did you
see my wallet?" hubby dear asked.
"I kept it
in the drawer", I replied.
"You kept
it so safely that I am unable to find it", he winked.
Huh! My Mr.
Right was so perfect at misplacing things, that I started organizing my stuff
and his too, but then I would mostly forget where I kept the things. This
happened for few more months and then I completely gave up. I became used to papers
lying cluttered in the drawer, books piled up on bedside table and toothpicks (thankfully
unused!) strewn away on the table. The more I tried to tidy up, the more easily
things would mess up and then I would get frustrated. It was not that I was
perfect, but then in the past few months of my marriage, I had realised the importance
of organizing things.
June 2007
The little
one came with even more surprises. My bedroom now resembled like the famous,
Dhobi Ghat,
with tiny clothes piled up
everywhere. I tried my best to keep things organized, but then at the end of
the day, they would be messed up, leaving me even more irritated. I made peace
with the situation, as I knew it was just a matter of few years, then I shall
teach the little one to organize her things from day one (was I daydreaming?)
April 2012
I enter the
house at 12:30am, tired from a 10-hour shift, just to step on some of the Lego blocks, my daughter has neatly
scattered on our bedroom floor. It hurts, but I quietly pick them up, one by
one and by 1:30am, I have tidied the bedroom.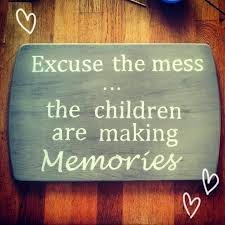 Google Image Search
I guess
this is story of every household. One or two persons from the family will be
good at organizing things and the others will happily contribute to the mess.
But what is mess, the dictionary defines it as, a dirty or untidy state of things or of a place. True, but what
maybe untidy for you, could be sheer convenience for the other person. Over the
years, I have figured out that people have a way to organize things and it's
completely okay, if it doesn't fall as per your expectation.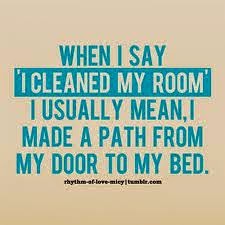 Google Image Serach
Earlier, I
would keep telling hubby dear and daughter to keep things in their place, but
lately, I've stopped advising them. If they are unable to find anything, I am
the first person they ask, but then I conveniently shift the responsibility to their
shoulders. Each person learns to organize, with their own experiences. After
marriage, in order to save time and energy, I started tidying up immediately. A
neat wardrobe meant that I would get ready for office before time.
When we set
things in order, our life also settles down as we waste minimal time on these
trivial things. Treasure hunt is fun, when it's a game, not when you misplace your
documents or a pair of socks or tie. I do tidy up the living room, when I have visitors, but the bedroom remains piled up with clothes and toys.
Someone once told me that, a clean house means…you are
alone. I don't know if that's a justification to stay disorganized, but yes,
now I don't get irritated when I see things messed up. I either clean it, or leave it just the way it is.
What are
your views on being organized? Do you prefer a neat home or are you okay with
mess around? Share your views here, I am listening…!
PS: This
post was written for Project 365 program at
We Post
Daily
. The prompt for today was 'Odd Couple'