I love reading a
collection of short stories, for there is no rush to know what the end is. I
can read the book, at my own pace and relish the flavour of each story.
'The Vigil and Other Stories'
by Geeta
V. Reddy, perfectly fits into this category. It is a collection of 15 short
stories, each one completely different.
There is
something about the cover of the book; it kind of hooked me, immediately. Then
came the blurb, which was equally intriguing,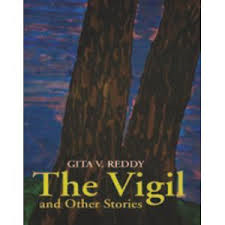 Book Blurb:
Delusions has Rohit, an actor par
excellence, slipping into different characters even when he is not supposed to
be acting. Devika, his fiercely loving wife, finds an unorthodox way to draw
him out of his delusions.
In The Square , three successful painters hold an impromptu contest with their
friend, who is unknown and a recluse. The result is expected or is it?
The Vigil is about Naina, a young expectant mother, who is also a very busy
professional. She makes all arrangements for the birth of her child but finds
she has missed out on something very vital. Is it too late to make amends?
A Lifetime is about the choices Tara makes when she falls in love under the
ominous shadow of honour killing. Can she live with her choice?
Fifteen stories, myriad emotions, diverse characters, milieus, situations make
The Vigil and other stories a compelling read.
Each
story in the book revolved around a unique theme and I think that's what made
it even more interesting. Most stories depicted the real lives of women,
especially, 'Time and Space', where the author, beautifully described the challenges
of a grandmother in today's world and 'Sita's Lives', where she portrayed the
feelings of Sita after having returned to Ayodhya. These two stories made me wonder
how as women, we accept certain things and seldom stand up for ourselves.
"The
Vigil", struck a chord, for I too went through the similar phase. "Delusions" came
with a twist, which I never thought. 'The Square' was well weaved, yet I felt
the end was too hurried. The language used is simple and the narration is quite
crisp. However, I personally felt that some stories ended too soon. I couldn't
make out what exactly the characters were trying to tell. Gita Reddy has done a
fantastic job of weaving stories with a pinch of reality, which will leave you
to introspect your day-today-lives.
I
thank Readers Cosmos, for sending me this book for review. It indeed was a
wonderful experience.
I
would recommend this book to anyone, who prefers a light read, especially while
travelling and also to people who love to read stories revolving around the
lives of women.
You
can also follow them on Twitter, for interesting updates, discussions and
giveaways.