The
sun rays kissed my tender skin and I opened my eyes. Monday mornings usually
began with rush and stress to get all the things done, but today I was
encompassed by peace, a Zen-like
feeling. As I was about to enter the washroom, I heard the commotion in the
living room. I peeped through the bedroom door, which was left half open. Aditya
was struggling to tie a ponytail and my daughter was yelling an occasional, "O…Pa,
slowly, it hurts".
"Ahhhh…….Pa….let
me wake up mummy, you will not be able to do it," Anisha cried.
'No……please
no……I am not ready for another lecture that too, on a Monday morning', Aditya
pleaded.
Advait,
my little one was busy licking his fingers and sticking the chocos pieces on our sofa.
"Advait……shona….you
better watch out, mummy will wake up soon", warned Anisha.
I
stood there and observed all this, surprisingly without any reaction or
frustration.

"Kitchen platform cleared, dishes put away for washing, milk kept in fridge,
hmmm…anything else," he mumbled.
I
noticed Aditya was scribbling something on a piece of paper which he tore from Anisha's
book.
"You and Advait stand near the bus-stop, I will be there in five minutes, said
Aditya, as he rushed towards the bedroom.
"Ok Pa," Anisha smiled and left the house.
Tears
refused to flow, my sound failed to reach him. Helpless I sat down on the floor
to read the letter.
Dearest Aditi,

Now
don't give me a surprised look. You know I am not good with words, but then I
also know how much u love handwritten letters. I understand the fact that you
are going through a very challenging phase with your two books in the editing
stage. I can see the amount of pressure that is on you, to meet the deadlines
and above that the household responsibilities; it just gets too much, isn't it?
But does all this mean that you will blurt out the way you did yesterday? I
know that I & children don't do much as per your expectations, but we do
try to ease out the load, don't we?


If you had the time, you would notice how Anisha gets ready to school by
herself and even ensures that Advait has his breakfast. How Advait remains
quiet as we drop him to the crèche when other children throw tantrums. I don't
know if you noticed that Anisha helps so much during the evening when you are
busy writing or speaking to your editor. She helps me lay the table, brings water
and also serves food. I do water the plants; pick up the ironed clothes from
the laundry, run ten times to the grocery store to get things, which you
forgot.



These are all little things, trivial, as you named them. But tell
me Aditi, don't these little things matter..? Darling, life is made up of these
little things, little moments of fun and enjoyment. Never again say what you
said yesterday, I can't handle it, please.

I
am sorry and now that you have forgiven me, time to have your breakfast. Little
burnt toast and bhurji are waiting for you on the Dining table. And haan, don't
Smile J


Love u more
Adi

I sat there wondering, what had I done? Events from last evening, flashed in
front of me.
*************
"This
house is a mess, how many times have I told you Anisha to pick up your toys.
Look at the floor tiles, they are not your canvas," I yelled at my 8 year old.
"One day mummy will die na, that time you will
know my importance," I said.
"Stop
it Aditi, watch your words. Is this the way one talks to a child?" Aditya
questioned.
"You
better don't interfere", I replied.
I
was angry and frustrated not on Anisha, but on myself, for having missing a
writing deadline. This vent out was for me, but I failed to noticed how much I
was hurting the child. I went to sleep asking the Almighty to take me away from
this world, forever!
***************
Was
it too late to press an undo button?
If
only I could….
Just
then,
'U&I
in this beautiful world,' beeped the alarm clock…
I woke up with a thud, to see my hubby and
children sleeping besides me. It took few moments for me to realize that it was
a dream and that I was alive to enjoy all the beautiful little things packed in
the gift called Life.
*********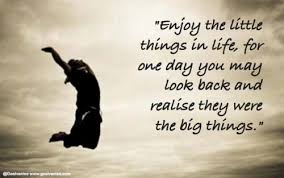 Google Image Search
How
many times do we ignore or take for granted the simple pleasures of life, like
watching a sunrise or your child play. How many times we fail to smile at the
flowers that bloom or the birds that sing. How many times we ignore the
importance of gratitude. How many times we forget to appreciate our children
for the little victories or our parents for their sacrifice. How many times do
we really express our love and hug our dear ones? In the race to achieve a fat
package, buy a big house and live a lavish life, we ourselves complicate our
life. Not everyone gets an undo button, so start enjoying those trivial things; they are the ones that
really make up our life!
The prompt for today was 'The Little Things- that define our life,
but are often overlooked'.