I spent the
first five years of my childhood in
Thanjavur
,
the land of temples. My day would begin with the sound of the temple bells and
Suprabhatam
. My maternal grandparents took me to the temple every morning. I
still remember how everyone in the temple would pray with his or her eyes
closed and how they would apply
vibhooti (
sacred ash
)
generously
on their forehead. I wondered what they prayed. When Appa brought me to Mumbai,
I missed
Thanjavur
and the temples. I
also missed the yummy
prasadam
which
was mainly sweet or spicy
pongal
. However,
there was one thing, which was the same, MS Subulakshmi's Suprabhatam.
Growing up in
a traditional
Palakkad Iyer
family, I
learnt all the
stotrams (
hymns
)
at a very young age. I learnt that we
were not supposed to cut nails on specific days of the week and on certain
days; we were not supposed to use onions and garlic while cooking. We would
offer our prayers to a specific deity, every single day. On Monday, it was Lord
Shiva, Tuesday Lord Ganesha, Wednesday Lord Kartikeya, Thursday Lord Vishnu,
Friday Goddess Lakshmi, Saturday Lord Hanuman, and Sunday all of them. I
accompanied
Appa
to temple almost
every weekend, until one day, when he said that I should not take the name of
God, as I was
impure
. I had never
questioned any of the customs, but that day I had to question.
I remember
asking my Aunt, "Why should I not pray today?" to which she replied, "You are
menstruating
and when a girl menstruates, she should not touch God, offer
prayers, or even enter the kitchen and
puja (
sacred room for prayer
)
room".
I was
speechless. I had heard about the
untouchables and for a moment, I felt I too was an untouchable. They made me
sit in a corner and gave a separate pillow, sleeping mat, and bed sheet. They
gave me separate plates and glasses to eat for five days. I was new to all this
and I never understood why they did this to me. I was angry with everyone. I
cried that whole night, lying alone on the sleeping mat, with thousand questions
revolving in my mind. Next day unconsciously I entered the kitchen and started
praying. It was a part of me now for last 10 years, how could I go away with this.
"I told you
not to enter the kitchen and touch the puja
items, then why did you enter?" Appa yelled.
I quietly left
the room and sat in the corner which was now my sanctuary. I was not allowed to
touch anyone for those five days. I wondered what had happened to me and why I
was treated like this. The next day I asked few friends in school about this.
They too said that menstruating girls were impure and were not allowed to touch
God and visit temples. They also told me that if we touch anyone then they had
to take bath again. I was agitated, but what could I do. I was helpless. I accepted all
this as a normal custom and continued to follow it, though I was never
comfortable.
I knew many families
followed this tradition, but I never understood why. Does menstruating make a
woman impure? It is a normal biological process, which keeps a woman healthy
and helps her to procreate, as simple as that. Some of my friends and relatives
said that, God would punish me, if I visited temples. I do not know if he will,
but my beliefs have changed, now. I pray during those days of the month and I visit
temples too. I feel calmer when I pray and meditate on those days. I use onion and garlic on all days and cut my nails as per my convenience. I do believe in the Almighty, but I no longer follow customs and traditions blindly.
As we mature,
our logical mind questions many beliefs, which were instilled in us as a child,
and maybe with time, we replace some of the limiting beliefs by new empowering
ones. Have your opinions changed with time and age? If yes, do share them with
me here, I am eager to read them now.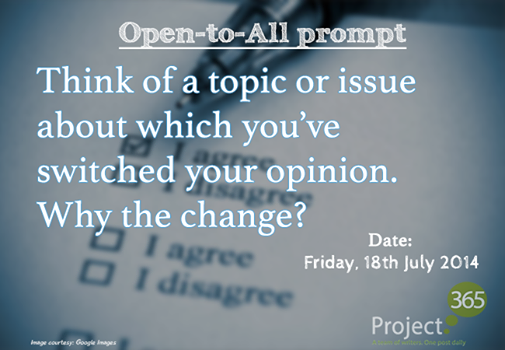 PS: This post is written for the
Project 365
program at We Post Daily aimed at posting at least once
a day, based on the prompts provided. The Open-prompt for today was
'Think
of a topic/issue about which you've switched your opinion. Why?