I still
remember that rainy night, a night that changed me forever, a night, when I
faced my worst fears. I do remember the date, 16th August 2006. Just
the previous day, we had celebrated the 59th year of Independence,
but I really wondered if we were free…? I
was returning from my office, second shift to be precise. The UK BPO I worked
for then had immense faith in the strong capabilities of women and refused to
give us a home drop. I stayed in the interiors of Central Suburbs, Dombivili and providing home drop, did not fit in
the company rules and the budget as
well.
I usually
reached Dombivili by 11pm in the night and it took me another 30 minutes to reach
my home, which was around 5kms away from the station. Thanks to our wonderful
transport system, there would be no rickshaws or buses at that time. After
waiting restlessly for about 20 minutes, I managed to get a rickshaw. I
mentally calculated the time to reach home. It would be around 12am. To say
that I was scared would be an understatement. That day the road was deserted
and all I could see was group of young and old men drunk, standing in the
corners of the road. 16th August 2006, was Krishna Janmashtami, how
could I forget that. I was a part of the BPO industry and all I knew now was Spring Bank holiday and US Independence Day.
The rickshaw halted
at the rickshaw stand. I checked my watch; it was 12:15am. The cool breeze
kissed my cheeks, but I observed that I was sweating. I had to walk for another
15 minutes from the stand till my building. There were no streetlights and I was
scared to walk alone. I tried calling my husband, but his phone was not
reachable. Thanks to networks, which do not work, when we need them the most.
Hubby was having viral fever and was at home. Doctor had advised him bed rest. The
landline phone was dead for the last few days and the BSNL network seemed to
blame the rains for that. I had no other option, but to cajole the rickshaw
driver to take me till my building.
"Bhaiyaa, aap
direct building tak rickshaw lenge kya?" I asked in the most polite tone ever.
"Nahi madam,
aap yahan utar jago, humko ghar jana hai", he replied.
(You get down
here, as I have to go home.)
I wondered if dropping me
home, would take 2-3 hours, but I chose to keep quiet, gave him the money, and
started walking as fast as possible towards my house. That is when I realized that
I was not alone, there was someone walking with me or rather within me. I was pregnant and my gynecologist
had advised me to walk slowly and take care of myself, as it was the initial
month. I smiled as I touched my stomach and started to walk slowly, not realizing
that danger was approaching me.
Just then, I heard the
honking sound of bikes. My heartbeats raised and there was a lump in my throat.
I slowly raised my speed, but the sound was now nearing me. The two bikes stopped
exactly in front of me. Four men, completely drunk got down from the bike.
"Arey item, kitna legi ek
raat ka", smirked one of the men. (How much do you charge for a night?)
I froze for a
moment. My heart started beating even faster. The road was deserted and there
were no streetlights. One of the guys, held my hand and twisted it. It pained.
I tried my best to let myself free, but I could not. I was worried for myself,
for my child. I started crying loudly. I shouted, but no one heard me. For the
first time in my life, I used swear words as I struggled to free the clutches
of these men.
"Utha usko aur
bitha bike pe", I heard one of them say. (Pick her up)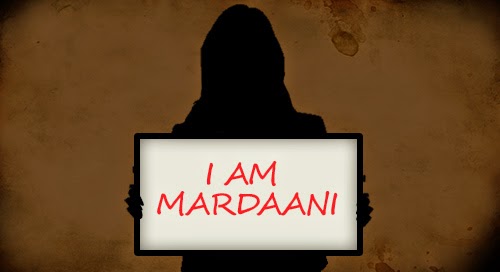 I was
helpless, but I had to fight for myself and for all the women are tortured and
abused. I mustered courage and started hitting the person who had held me with
my umbrella. He fell down. The other two men tried to grab hold of my dress,
but then I started hitting them too with my umbrella. To my surprise, the
umbrella did not break (Sun brand of course!) They fell down too. I pulled out
the chilli powder from my purse, threw on the face of the fourth person, and
kicked him on his groin. I saw the other two men get up and that is when I
started throwing stones at them. I ran as fast as I could towards my building.
For a moment, I forgot I was pregnant. I ran.
I heaved a
sigh of relief when I reached home. I cried for hours hugging my husband. My
lower stomach ached for hours and I was worried if my child was fine. She was
Mardaani like me and she was perfectly fine, when
I checked with the doctor, immediately next day We women have to stand up for
ourselves. Such moments do make us vulnerable, but we need to act swiftly. We
can't always rely upon the government or police to protect us. We need to learn
self-defense and be courageous enough to teach these perverts a lesson for
lifetime.
It is time, we all became, Mardaani.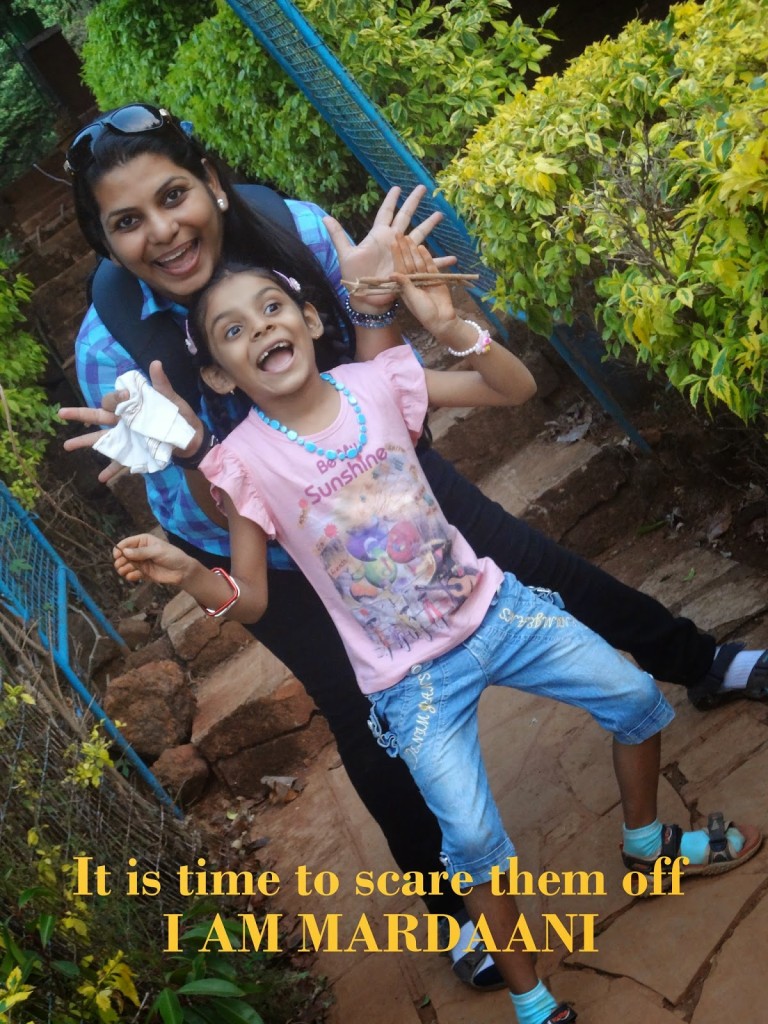 PS:
This post is written for the I am #Mardaani contest held by Blogadda. I am late in posting this, but I wanted to share this with you all.