The morning welcomes me…
With 100 Whatsapp messages,
Each one wishing me a good morning,
A forward message or a bouquet of flowers,
Some pearls of wisdom or random updates,
I click, 'clear
all' and get to my work,
As I prepare my favourite masala chai,
I hear the phone beep….
Facebook and Twitter notifications,
Some more Whatsapp forwards,
E-mails,
Vodafone updates,
When will this stop I wonder…
I have clients to meet,
Emails to reply,
Comments to respond,
Pictures to see,
Blogs to read,
Content to write,
Experiences to share,
I sit near the window
And watch the clouds pass by,
I close my eyes and…
Listen to the birds sing.
I stretch my hand out and feel the raindrops,
I go for a walk…
Only me and my thoughts,
I smile at the fresh green leaves,
I soak myself in the smell of the flowers,
For few moments I sit there….
Engulfed in the silence of my breath
I play with my daughter and listen to her stories,
I paint the canvas with colours I like,
I build castles with lumps of clay,
I love these moments of my day,
When I slow down….
To enjoy the little pleasures of life!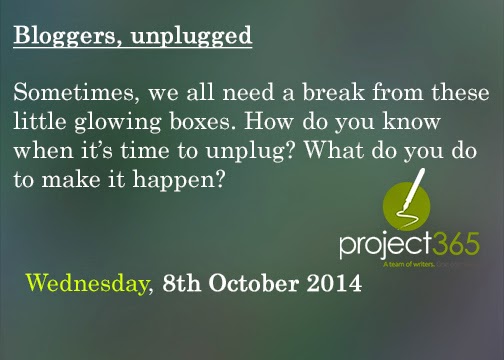 We all love our IPod's, Smartphone's, Tablet's, Play
station, don't we? I don't know about others, but too much of technology at
times tires me off. I still prefer calling a friend than chatting with them for
hours on Facebook or Whatsapp. I prefer playing Badminton over temple run or
candy crush. That's how I am, a little weird I guess.
When was the last time you switched off all the
technology around you? How did you feel when you did it?
PS: This post is written for the
Project365 program
at We Post Daily aimed at posting at least once a day, based on
the prompts provided. The Open-prompt for today was
'How do you unplug yourself'?