Good Evening all you amazing people out there. It's
a wonderful evening here in Mumbai, with clear skies and as the sun slowly
plans to set, I am sure it will splash its colours on the canvas of the sky to
make it even more beautiful. What do you think??
The last one month I was tied up with various
responsibilities and blogging took a backseat, but I promise to be more regular
from now. I have recently joined driving classes and I am eagerly looking
forward to the completion of the same, so that I can hit the highway and go for
a long drive…..with some peppy music on.
Today while driving the car, the engine made some
weird noise. I ignored it at first, but then the noise increased and as I accelerated,
the car stopped suddenly with a sudden jerk. It was as if the world stopped for
me…..at that moment. In the last 15 days of my practice, I never came across
such a situation. I looked at my instructor as he smiled as said, "Madamji, gadi toh aawaz de deke aapko bata
rahi thi, gear change karo, magar aap itni busy ho gayi, ki dhyaan hi nahi
diya." (Madam, the car was making noise and trying to tell you that it's
time to change gears, but you were so busy in driving that you forgot to understand
the signs.)
At that moment, I just overlooked the comment, but
later when I reached home, I thought about what the instructor said. Before
that interview/presentation/exam, the feeling in our body, tells us to be more
prepared. When travelling alone late at night, the voices in our head keep
telling us to be more cautious. When we are procrastinating something, we tend
to see the same things at various places. For instance, few years back, I had
taken an appointment with a dentist for root canal treatment and wisdom tooth
removal, but I continued to procrastinate. For the next seven days I remember seeing
ads of dentist on Facebook or people talking about how painless is root canal
and reading about dental surgeons in newspaper. Finally on the 10th
day, I went for the wisdom tooth removal and started the root canal process.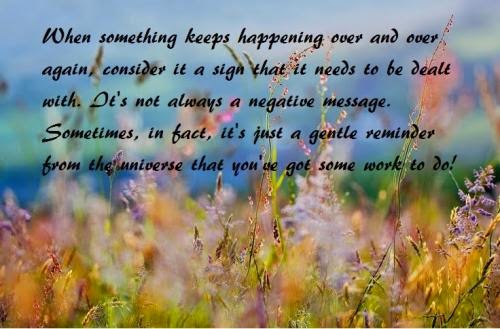 Google Images
The Universe
keeps sending signals all the time,
whether it is in the form of a feeble voice in our head or a feeling in our gut,
or through some external images, but we are so busy with our routine that we
ignore these signs. Many a times we may not understand the signals, but if we
manage to set up a powerful and empowering internal guiding system, most
popularly known as intuition, we can surely
achieve more. And to build a strong intuition, we need to silence our mind by
switching off any internal dialogues and do deep within ourselves, with every
breath that we take deep in…..and out…. By doing this consistently we can
connect to our innermost feelings that can guide our path and lead us to a more
fulfilling life.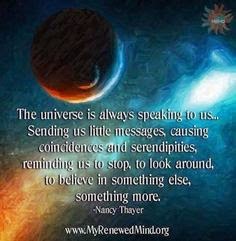 Google Images
When was the last time you emptied your mind? What
are some of the ways you empty your mind? When was the last time you spent time
with yourself, away from all the distractions? When was the last time you tried
to understand the signs of the Universe?
Keep smiling,
Be grateful,
Love,
Gayu