After 15 months of my Amma's
death, she entered my life. I was 11 years old. It was a Monday morning, when I
first met her. She was just about my height and a little healthy. For her age,
she was a little short. She was dressed in a beautiful purple colour
kanjeevaram saree. A big maroon bindi adorned her forehead above which there
was a small horizontal line of chandanam.
She smiled and divinity radiated from her face. There was a strange stillness
that I felt in her presence, a magnetic pull which I had never experienced
before.
She entered our house with
her right foot forward. She placed her bags in one corner of our living room
and inspected the house. Within moments she freshened up and marched towards the
kitchen to prepare tea. My Appa was an expert in preparing tea and I was used
to his style, but she didn't budge. She prepared the tea which was more like
warm water mixed with milk and I gulped it down hesitantly.
"What would you prefer in
breakfast?" she asked in an accent that I didn't understand.
"She is born and brought up
in Kerala, so her Tamil has a little Malayalam accent." said Appa.
"Anything would do", I
replied
"Then I will make upma." she
said.
I observed her as she arranged
the ingredients required for Upma. Onions, ginger, chillies, curry leaves, coriander
etc… Within 20 minutes she served us Upma with coconut chutney. It was the yummiest
breakfast I had had in the past 15 months. I gobbled it up in less than 10
minutes.
She smiled again and this
time I smiled back. I felt better. She came closer and caressed my hair and
asked, "Did you like it?"
I nodded and left to get
ready for school. As she prepared lemon rice for my tiffin the aroma of sesame
oil filled up the entire house. I waved her goodbye and she smiled again. Her
smile was infectious. Somewhere I had forgotten to smile in the past 15 months
and today for the first time in the past six years of my school life I felt
nice while leaving for school. She stood near the window and waved me goodbye. I
noticed a tear drop kissing my cheeks. Her gesture touched my heart.
Every evening she prepared
yummy snacks and as we ate together, she shared stories of her childhood. She
spoke about her mother, her eight siblings and her ancestral home. She shared
her thoughts about God and the power of prayer. She would light up the oil
lamp, a traditional kuthu vikalu and
recite shlokas. I observed her as she
closed her eyes and entered into a deep trance reciting bhajans of Lord Krishna.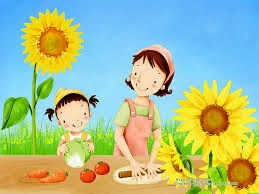 Google Images
Few months later there was
a Sanskrit Shloka reciting competition in our school and I wanted to
participate. However, I was confused which shloka to recite. One evening as I
was trying to read the Vishnu Sahastranam, she sat beside me.
"Shall I help you?" she
asked.
"If you can, I will be able
to participate in the competition" I replied.
For the next five days she
taught me all the popular shlokas and I was amused by the speed at which I
learnt all of them. I won a consolation prize in the competition and we both
were happy. In the afternoons she watched Malayalam movies and whenever I was
home, I too watched it with her. Slowly our bond started deepening and I
started smiling more.
"You have beautiful smile."
she said one day.
I blushed.
In the next few years, she
taught me Malayalam, how to cook and draw the traditional rice kolam (rangoli).We spoke about
everything under the sun and I enjoyed our conversations. We visited temples
and prayed together. We listened to Carnatic music and went shopping together.
She always spoke softly and
in the past twenty years, I have never seen her get angry, yell or lose her
control. No matter what the challenge, she faced them bravely. She taught me
that love can win anything and anybody in the world. She showed me the
importance of persistence and how being kind and patient always helps us to
reach greater heights.
I clearly remember what she
said before my wedding.
"In life money will come and go, but relationships
will come only once. They say marriages are made in heaven, but to make it
work, both the partners need to work together. Remember that the other person
is human too and they may make mistakes. Your wisdom lies in forgiving and
letting it go. If you are able to do that, then you will always have peace of
mind."
After my wedding I remember
grinding the batter for Idli. My in-laws eagerly waited for the soft spongy
idlis, but the consistency of the batter was too watery. I started crying and
called her. She immediately asked me add a two cups of rice flour. The result
yummy idlis that my in-laws relished.
Every day I call her and we
speak for hours and my daughter asks me what we have to talk about every single
day. I have no answer to this, but I feel something amiss if I don't speak to
her.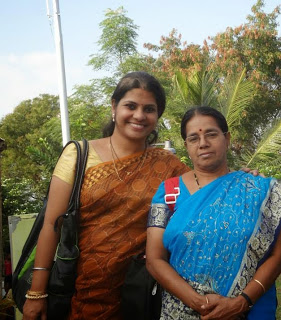 She is my step-mom, my Chithi, who is always my first and best expert.