Somewhere in the month of
July 2014, I chanced upon
Lessons Learned from Indians
, a blog where bloggers,
authors and everyday people shared the lessons they learnt from the various
walks of their life. With an urge to share the lessons life had taught me, I
messaged
Sumeetha Manikandan
, an author, blogger and the face behind Lessons
Learned from Indians. She immediately accepted my post and there began our
virtual friendship. I admired the simplicity with which she wrote and the
powerful impact it had on me. I remember a long discussion we had after my
first post went live on her blog. Her views on life resonated with me and I
felt that instant connect with her.
Her latest book, a novella – These lines of Mehendi is published
as a double header novel called Love, Again. Here is an excerpt
from the book for my blog readers. It gives me immense pleasure to host Sumeetha on my
blog today.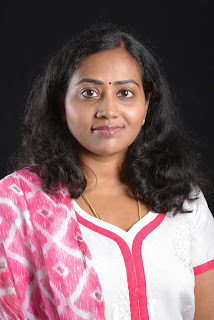 Author- Sumeetha

*****************
These lines of
Mehendi
"My husband passed
away in an accident leaving me behind with two school-going kids. A few months
before his death, I had finished a beautician course and was working at a
beauty parlour near my home. I was also the only Mehendi artist in the parlour
and I had no other option but to work.
While my colleagues at
the parlour knew that I was a widow, the owner who was sympathetic towards me
asked me to keep bindi and wear a black beads mangalsutra so that my clients
would know that I was married. I refused at first. Way back in the 90's we
still had qualms of keeping bindi after the husband passed away.
But I learned soon
enough why she said that. I was asked to apply Mehendi to a party of ten women
who had come to the parlour along with the bride and as they sat down around
me, the bride's aunt noted my bare forehead, lack of metti and mangalsutra and
started asking me questions about my marital status.
"Why are you not
keeping bindi? You don't wear metti? Where is your thali saradu (mangalsutra)?"
I struggled to lie to
that woman even while I applied lines of Mehendi on the bride's hands. Keeping Mehendi for a wedding is ritual in
most communities and most of them want only those women who are married with a
husband living, to apply it to the bride.
I learned to lie from
that day onwards… yes, my husband is at the office… he works… somewhere… I got
myself a fake mangalsutra and pair of metti and kept a big bindi at work….
Initially I used to
feel guilty about pretending to be married and the lies that I had to tell but
I had no choice. I was not educated enough to get another job and I was trained
to be a beautician and a Mehendi artist all my life and I needed the money for
my children.
Many a time, I have
wondered whether I would be transferring my own bad luck to those countless
brides. I couldn't help feel guilty about presenting myself as a sumangali just
so that I could get the bridal order. I used to hold the bride's hands before
applying the Mehendi and send a silent prayer to the All-mighty God to keep
them happy, fertile and fulfilled in their marriage."
Lalitha
Two years ago, when I was toying with a plot idea of a
beautician who needed to get married just so that she could continue working as
a mehendi artist. A few of my friends
thought that it was not a valid enough reason to go for a 'marriage of convenience'.
But I had already started writing the novel in my mind, so I
set out to find out whether anybody had faced such a situation in their life. I
spoke to many beauticians and Mehendi artists until I found Lalitha. After speaking to her, I decided to name my
heroine after her. She opened my eyes to many paradoxes that still exist in our
community.
'These lines of Mehendi' is my tribute to women to Lalitha who
live their lives doing what they love the most…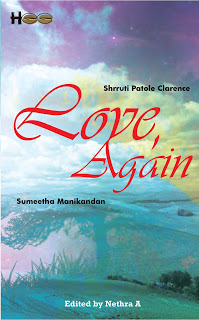 Love Again!
The novella – These lines of Mehendi is published as a
double header novel called Love, Again. Click here to buy a copy –
Two
days later, she was applying mascara on the bride's long eyelashes. With her
delicate beautiful skin and natural long hair adorned with antique hairpieces,
the bride looked quite lovely and Lalitha felt innately proud presenting her to
her groom.
It
was a regular Tamil Brahmin wedding with the usual chaos and confusion. The
bride's room was the most chaotic one as always. In most marriage halls, the
bride's room was the only one that is equipped with a full-length mirror, air
conditioning and a sturdy locker to keep the jewels. So inevitably, almost all
valuables and their myriad owners are found lurking in the bride's room.
And
as always, the bridal room was full of aunties in various states of undress and
some were getting a blow dry and a light make-up done by her team of girls.
Sowmya was almost ready to enter the mandap
but for the bindi, which her friend
was searching for, rummaging through a large plastic cover full of bangles and
stuff.
She
sat down and watched, as her team wrapped up the make-up. On the farthest
corner, she saw Tamilarasi, a new girl in her team, applying the wrong shade of
eye shadow to a fat aunty. She weaved her way through the crowd and tried to
get to her to correct the shade, when she chanced upon a conversation between
one of her girls, Payal and the bride's aunt.
"So
her husband committed suicide just last week and she is at a wedding?" she
asked sharply.
Lalitha
stopped in her tracks and turned around. She saw Payal's guilty face and sorry
expression while the aunt looked livid.
"How
could you do this? How can you touch the bride's sari, let alone attend a
wedding just after a week of becoming a widow? And you applied the mehendi for Sowmya right?" she asked
shrilly.
The
room fell silent and as if on cue, they looked at her. One word, kept
reverberating through her heart – widow,
I am a widow now. She had not realized the import of Suresh's death in her
life so far until it came upon her in the worst possible way.
She
looked at her and said shakily, "I am not attending the wedding as a guest. I
am just doing my job…" The lady didn't even bother to listen, but went out to
inform the bride's mother about the sacrilege that their beautician had
committed.
The
room had fallen silent suddenly and everyone was staring at her. With her heart
in her mouth, she watched with trepidation, when the bride's mother came in
with an embarrassed expression followed by the matriarch of the family, her
mother-in-law. Cornered, she felt virtually trapped in their joint accusation
of transferring her bad luck to the innocent bride.
About Sumeetha
Sumeetha Manikandan is a freelance writer and an author who
loves to write and base her plots on the tambrahm community of Mylapore,
Chennai. She is the author of 'The Perfect Groom' that has been a bestselling
ebook on the top 50 charts of Amazon India ever since publication.
An avid reader, she loves to read across different genres – romance, historical
fiction, non-fiction, mystery, fantasy etc. A history buff to the core,she is
currently translating Ponniyin Selvan – the evergreen tamil classic epic
history by Kalki Krishnamurthy into English.
Married to film maker K.S. Manikandan, Sumeetha lives in Chennai, along with
her six year old daughter.
PS: Go grab your copy today and enjoy your weekend!
Love and Gratitude,
Gayu