"Handle them carefully, for words have more power than atom bombs."– Pearl Strachan
Recently I attended my daughter's friend's birthday party. The birthday girl's brother, a super energetic boy about 5 years old was excited to help his mom. He carried a glass bowl full of handmade chocolates to the table. He was about to place the bowl on the table, when he missed it and the bowl fell and broke into pieces.
There was a strange silence in the room, when the mother yelled, "Statue….don't move until mom clears the glass pieces." Then she went ahead to pick the pieces and later hugged her son. The party was a huge hit and the boy's mother continued to appreciate him for his helping nature.
I started thinking of the mother's response. She could've yelled at the boy for breaking the bowl and creating a mess or could've told him how expensive the bowl was and maybe could've hit him. However, she chose a totally different response at that vulnerable moment. Her response shaped the evening. Instead of crying and yelling, the birthday party went smoothly.
This incident took me back to my childhood days. I was 8 years old, when my grandmother gave me 2kg of wheat to take to the flour mill. As I started walking towards the flour mill, I tripped, the bag tore and the wheat grains scattered on the muddy road.
"You can't even hold a bag of wheat, what can you do in life? Good for nothing." yelled Appa. I'm sure he didn't mean what he said, yet those words stayed with me. His voice replayed, when I entered a school competition, "You're good for nothing. You can't achieve this." When I tried to answer a question in class, self-doubt took over. Years passed and this voice became stronger. I felt incompetent.
Today as I reflect back, that one response shaped my school and college life. It influenced the decisions I took and the way I perceived the events of life. It also altered the meanings that I attached to challenges I faced. Gradually I was writing my destiny based on those few words that my dad uttered in that frustrated moment.
A child's mind is like a fertile land and the words you sow are the seeds of future, so be thoughtful of what you're sowing. Each word you speak can either pull them down or empower your child.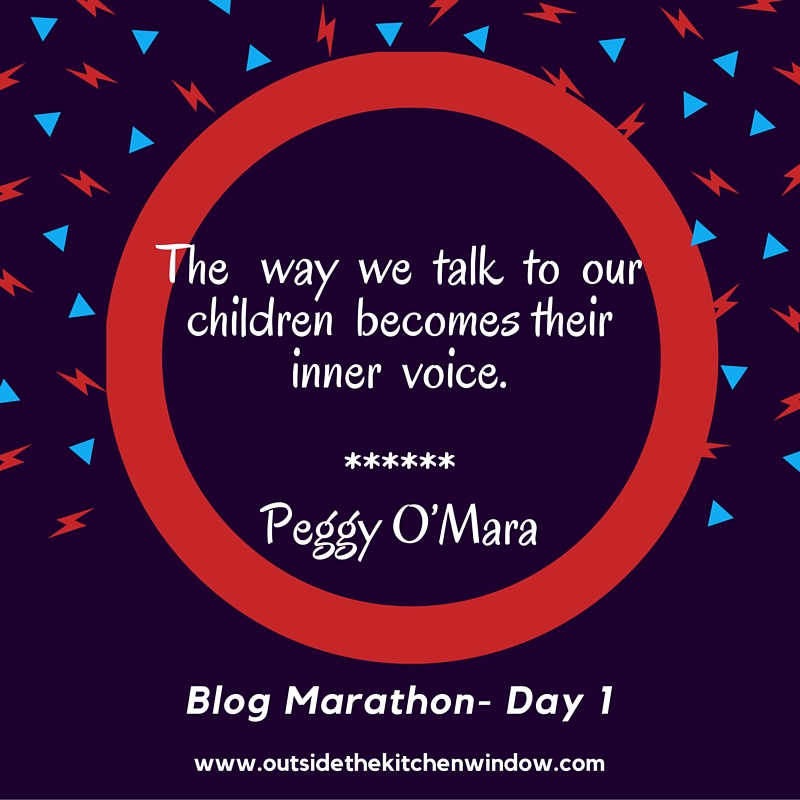 Here are a few ways to create an empowering response during vulnerable situations.
Focus on behaviour not on the identity:
"You're so careless", "You're so lazy", "You're so shy" I'm sure you have heard these statements. These statements are just  a group of words, however they have a profound impact on your child's personality. Maybe the child missed answering a question in Math paper and the parent says, "You're so careless". The child's brain processes this information on his/her identity level. He/she now thinks that they are careless and slowly they may start using this as an excuse to cover their mistakes. It becomes their reality.
Instead of making such identity level statements a parent may say, "You could've been more careful in your first term Math paper, isn't it? I'm sure if you pay more attention in the next term, you can avoid such silly mistakes." Here, a parent is focusing on the careless behaviour in one instance and how with efforts the child can get over it.
Avoid generalizations:
"You always tell lies", "You always get up late", "You always eat slowly"– some more common statements that a parent uses in conversations. When a parent uses, 'always' he is trying to generalize a child's behaviour, which again shapes the child's perception of himself.
Instead of generalizing a parent can respond by focusing on the particular instances when the child lied or got up late. "I know you lied the other day. It's okay. We all tell lies, however I would appreciate if you told me the truth from the next time." A response like this will help build a responsible behaviour in future.
Attaching meanings to events:
"You're not good in Math, that's why you scored less." this is what my mom said after looking at my Math paper. I scored less marks in the last term and she said it again. "See I told you, you're not good in Math." Few years later I found myself telling everyone that I wasn't good in Math.
Scoring less marks was just an event, but my mom attached a meaning to it by saying, "You're not good in Math". Parents keep doing this unconsciously. "You're a poor speller, as you scored just 4 out of 10 in dictation."
The next time you can rephrase the same statement as, "You got 4/10 in dictation that means you've a fantastic chance to improve." or "You scored less in Math, I wonder how I can help you to make the concepts clearer."
These tips have helped me bond better with my daughter. Initially when I started observing the way I spoke to her, I found a lot of generalizations and identity level comments. It took me a while to rephrase my response, however as I paid attention to the words I chose, it became easy for me to switch. Gradually the shift in my response, shaped her behaviour and transformed our relationship. She became more co-operative and I became more accepting.
I hope these tips help you too. The next time you notice an urge to yell at your child and say things that you really don't mean, remind yourself –
'Words cast spell, that's why it's called spelling'
What do you think about the 'Power of Words'? How effectively do you use them? I'm eager to read your views.
Love and gratitude,
Gayu
PS:
Starting today I will be blogging every day for the next 32 days on topics that are close to my heart, like relationships, personal development, books reviews, parenting and mental health. If you want me to write specifically about any topic, you can do so my posting a comment on my blog or you can drop an email to gs.aptekar84@gmail.com.