All geared up for the second day. When we focus on the positives it feels so good, there is a sudden flow of energy and it feels great.
Here are the positive fives….
Today being Onam, I managed to prepare Onasadhya which included-Pal paysam, Neiappam, Avial, Cabbage Thoran, Rice and Daal. It all turned out to be yummy….and everybody at home enjoyed it. I was so happy to see them relishing the South Indian Platter.
I wore a Kanjivaram Sari to office, I was very much tensed as I don't get rickshaws usually near my place. But today surprisingly I got a rickshaw just outside the building gate. See the results of being positive:)
I gave some neiappams to a beggar in train….he was so happy. He must be around 10-12 yrs.His immediate reaction was" Madam yeh ghee mein bana hai kya?? Humne to ghee ke sweets kabhi khaye hi nahi". (Madam, is it made of ghee, we have never had any sweet made of ghee).I never give money to beggars,instead I purchase them something to eat.
My office colleagues also liked the neiappams…:)
And finallly..how can I forget the compliments….it feels so nice…when you are all decked up and you receive compliments.
Here is a picture of mine…it's not that clear, thanks to my phone:)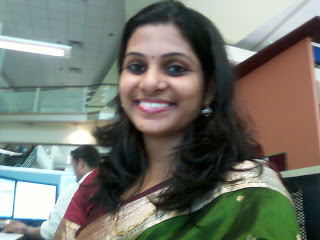 HAPPY ONAM!!!!!!!!!!!!!!!!!!!!!!!!!
Have you guys started writing down the positives…if not then please start…it helps a lot!!!
Cya!!