The last weekend was a blessed one, with two books to read. I received the two books
My Life Story
and
Is This Love & Autumn – The Last Leaf
from
Arti Honrao
the author herself.
There is something special about Arti's writing. There is an emotional connect, and you can really feel what the characters are going through. The love, the confusion and the bold scenes… the way she expressed each of these is simply superb.
My Life Story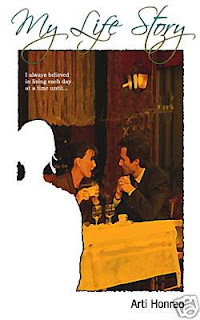 I would like to make it clear here, that My Life Story is purely fictional and is no way related to Art's life.
There are times when people who appear to be strong are the weakest of all and the ones who appear weak happen to be the strongest. This is how My Life Story unfolds. Kavya is just like any other girl, who wants to marry the man she loves…and she goes ahead and takes the decision despite the disapproval of her father and sister. Marriage brings the real Roshan in front of Kavya…and that was the time when Shantanu supports her…!!! The story will make you think a lot about the foundation of any relation and that is Trust. The unexpected twists will ensure that you finish the book in one go. There is lot more…and I can go on and on….but I don't wish to do that.
A nice read for those who love "Love Stories"
Is This Love & Autumn – The Last Leaf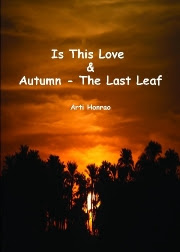 This book is a collection of two short stories.
I simply loved both the stories, mainly because of the author's simple yet powerful narration. Arti has brought the characters alive.
I could feel Sheetal's pain, Aman's jealously and Vishaal's helplessness in Is This Love. The small confusions and assumptions that we tend to make in life sometimes leads to big blunders. Some people are fortunate and they get a second chance but will Vishaal and Sheetal get a chance is what we need to see.
Autumn-The Last Leaf is more like a thriller where the suspense unfolds slowly and when you reach the last page you are left speechless. Each scene had some surprise element in it…I would guess something would happen…but when I came to that part, something else used to happen. That was the best part I feel.
Arti is a great story teller…All the best…and waiting for more stories….!!!
PS: You can buy the books from Pothi.com.