"So it's not
gonna be easy. It's going to be really hard; we're gonna have to work at this
every day, but I want to do that because I want you. I want all of you,
forever, everyday. You and me…every day." –Nicholas Sparks, The Notebook.
The above line from the book, 'The
Notebook' by Nicholas Sparks, explains the essence of the eight-letter word, 'Marriage'.
Marriage is really not easy and when you come from totally different cultural
backgrounds, it becomes even more difficult to adjust, to let go and to
maintain peace.
There are many times, when we as an
individual or as a group of friends sit and think or discuss "The secrets of a happy married life". Eight
years is not a long time to speak about this; however I strongly feel that I
have changed a lot (for good) and we both have learnt a lot from each other.
So here, I would like to share few key
takeaways from my eight years of marriage.
Maintain Safe Distance:
Yes, you heard it right, no
matter how inseparable you both are, you both need space to grow as
individuals. You cannot be a creeper, hanging on to your spouse always. You as
two separate individuals should have different set of friends, hobbies and a
place where you can spend some time alone.
It becomes quite difficult to
read, when you hold a book to close to your eyes, or when you hold the book too
far from your eyes. That's the crux. You need to maintain a 'Safe Distance'.
Let your wife go with her girlfriends;
let your husband spend time with his buddies. Give each other the freedom to be
with people whom they are comfortable with.
However, do not misuse the
freedom, or else it may break the trust and create a rift in the relationship
forever.
Accept Each Other:
Accept, a word so simple, yet
so tough to follow. However, acceptance is the best way to avoid fights. The
same little things, which you enjoyed during your courtship period, may
irritate you after marriage and then the nagging behavior starts.
There could be certain
behavior patterns, which as partners, you may not like. There may be certain
things, which as a partner you may want to change, however, do it gradually.
It's a part of their personality; it cannot be changed in a fortnight.
Give the other person some
time, accept some things will not change and work on what you really can
change.
Respect Each Other and Each
Other's Family:
Respect again plays a very important role in a marriage. You need to respect
each other, no name calling during fights. You may be tempted to bring in
his/her parents now and then in fights; however, this will strain your
relationship. Respect each other's individuality, the differences and behavioral
patterns.
Also note that marriage is not
only about two individuals, it's also about the families. So make sure that you
respect each other's parents. In case you are hurt by anything, do not wait
till the frustration builds up, speak to your spouse, and make them understand
in case anybody's behavior has hurt you.
Relive old moments:
Years of being together,
makes you follow a certain routine, which becomes monotonous after a certain
point of time. With children, it becomes even more difficult and the
relationship actually goes for a toss. That's when you need to relive those old
moments. Just like you both were during your courtship period or your initial
days of marriage.
Plan a small weekend getaway,
go for a movie, go for a morning walk or just spend some time with each other.
This acts like a booster for any marriage, trust me, I speak from experience.
It truly works wonders when you surprise each other.
I had this habit of sending
flowers to Swapnil's office, just like that. No special occasion, just like
that. He never expressed his happiness when I did this, but then I knew deep
inside his heart, he loved it. People will always remember how you made them
feel, so make them feel important. Prepare a cup of tea for your wife, or play
a game of Counter Strike with your
hubby. Those moments are special, rare and treasured forever.
I-Drop the I and bring in the WE:
Few years back, I read a book by Sudha Murthy, "Wise or Otherwise". There was
this wonderful story of a couple who spoke of "My Money, Your Money". This
story caught me thinking, and I reflected on my married life. Yes there were
times when even we both bought the 'I' thing.
'I' did so much, what did you
do? 'I' paid the bills, what did you do?
This 'I' word really kills the
marriage at times. In the initial stages, it becomes quite difficult for each
other to bring in 'WE', but then with acceptance and with respect for what each
other does, we surely can be 'WE'.
It's all about the synergy
effect. As partners, we are interdependent on each other. Never make the other
feel less as compared to you. This mostly happens, if the wife is a homemaker,
or when she earns more than her hubby.
Marriage is not about what you did or what I did, it's about what
we did together.
Appreciate each other: A meal cooked well, the
laundry taken care of, the bills paid on time, few household chores which go
unnoticed. There is a child hidden in each one of us and this child craves for
appreciation, attention and a small pat on the back. It really boosts our
morale and it helps us do more.
When it comes to outsiders or
friends, appreciation comes easily, but when it our spouse, we try to bargain.
Appreciate each other, for the specific set of qualities that you have. And do
it often. But please don't fake it,
or else the other person will understand it.
Appreciation again could
extend to families. If his/her mom did something for you and you are very happy
about it, express it. Tell your spouse that you loved the way his/her mom/dad
helped you in a certain situation.
This makes them feel good.
Don't be a miser; a little appreciation bonds the relationship powerfully.
Give and Let Go: Marriage is about giving; the
more you give the more you will receive. Give more love, give more respect, and
you will surely receive all that in return. Trust me it works.
Also 'Letting Go' of old
fights and the past hurt, plays a significant role in bonding a couple. There
may be days, when you would not wish to speak to each other, it's perfectly
fine, it happens, however, when you start speaking again, ensure that you do
not carry the old baggage with you.
Tea tastes the best, only when
you make it with fresh set of tea leaves, similarly, start everyday with fresh
set of thoughts and throw away the resentments.
Expect less: Easier said than done, but
yes toss your expectations in a bottle and throw away far. We all have a pre-conceived
notion about our partners.
We want our wife to be a
master chef, we want our husband to be romantic, understanding, generous…and
the list continues.
However, we forget that the
other person is not a Robot and
he/she may not be willing to behave as per your whims and fancies. In the initial
days, communicate your expectations from each other, work on things which can
be fulfilled and let go of what cannot be done.
Love is a four-letter word and
Marriage an eight-letter word, so remember you need to double your efforts to have a rewarding and fulfilling relationship.

Leaving you all with a brilliant quote from the movie 'English Vinglish'
"There will be times when one of the
two will feel lesser than the other but in such times do not think that
marriage has come to an end. In such times, help yourself. Stand up for
yourself. When you help yourself, you can help your marriage as well and your
marriage will return to its original state of friendship"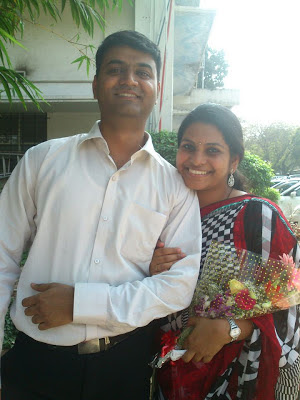 One of those rare pics, where we both have smiled:)
PS: We celebrated our eighth wedding
anniversary on 5th February 2013. Do share your views and tips on Marriage;
I would like to hear those.
Be positive, Be grateful,
Keep Smiling,
Gayu