"Prayers
and Blessings, may not change a situation, however they do give you the
strength, hope and clear thinking to act in a certain situation!
And all I need is your prayers, best wishes and Blessings J
It indeed will give me more strength and confidence!"
This was my Facebook status last week. One
of my friends immediately messaged me, asking, if I was fine. I was truly
touched by her gesture. The messages, comments and likes matter a lot to me. And
yes the prayers and blessings truly worked wonders.
Amidst my super busy schedule, I managed
to attend the auditions of 'Dance India Dance- Super Moms", held in Mumbai on 4th
May, 2013. Classical music and Dance is an integral part of any South-Indian,
Iyer family. However, our family was an exception to this. My Dad's income was
just sufficient enough for our schooling and day-to-day necessities. Dance was
a luxury and we couldn't afford it.
My sister says that I would dance on the
tunes of the song, "
Pappa kehte hain bada naam karega" and "Gazab ka hain din",
when I was four. I don't remember any of that. However, I utilized every single opportunity
in front of me. I performed in the school annual functions, building functions,
marriages, college festivals and office parties.
I never got a chance to learn dance,
however, I followed
Boogie Woogie
,
Dance India Dance
,
So you think you can Dance
,
Naach Baliye and Jhalak Dikhla Ja. I have tremendous respect for people who
have taken training in any form of Dance. Now coming back to my experience,
your blessings and best wishes, gave me the courage and strength to go for the
auditions.
I and Swapnil reached the venue at 6:45
am. There was a huge crowd waiting in the queue. The gates were to open at 10am.
I was amazed by the crowd, the talent and the sheer enthusiasm these moms had. There
was a lady in her forties, and she was to perform 'Lavani', a popular dance form of
Maharashtra. She was so energetic and positive.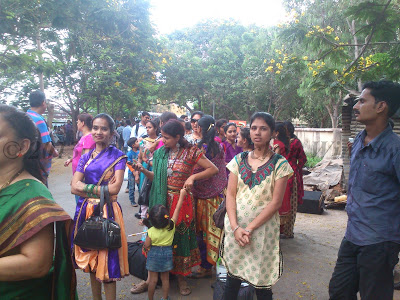 The crowd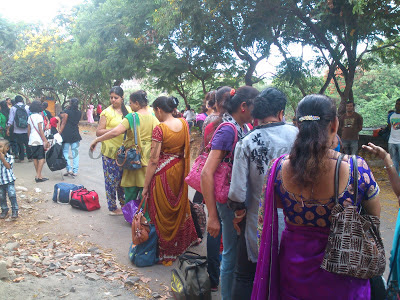 Then there was a lady, whose
mom never supported her for dancing, however, her mother-in-law was completely
sure of her winning. This lady learnt two classical forms after marriage did
stage show and does choreography for schools and college festivals. Isn't it a
Kodak moment? Who said, mother-in-laws just bitch around, some are very
supportive.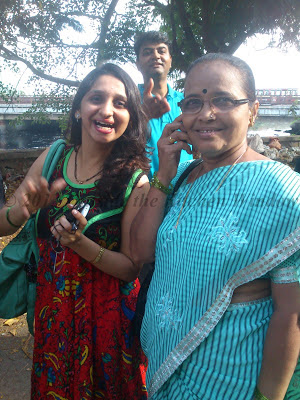 The Saas-Bahu jodi, and Swapnil
It is said that, "Behind every successful
man, there is a woman", I agree to this completely. However, I must add, that 'Behind
every successful woman, there is a man, a family, friends and support system
(maids, house-help, nanny etc). The husbands were equally enthusiastic. It was
a sight to see them support their wives, when they could have easily enjoyed
the Saturday holiday at home, with a mug of chilled beer and IPL match.
The beauty of Life can't be expressed in
words, we meet strangers, we learn so much from them and we end up being
friends. Bani, was one such inspiration. She is a mother of two, a fitness
freak, avid reader and an
Odyssey dancer
. She took training for 18 years in
Odyssey. She also represented India in the Youth Festivals. She also has learnt
other forms of dance like, Hip-hop, Salsa, Jive and Contemporary. Bani got
selected in the screening rounds will perform in front of Farah Khan in the
studio round. Do pray for her, because she deserves to be there.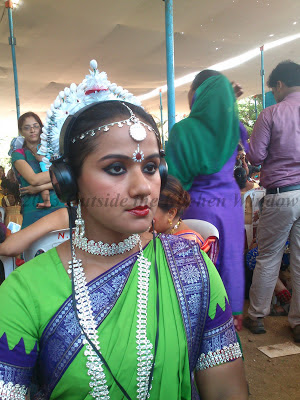 Bani, lost in her dance!!
My office colleague choreographed a
lyrical hip-hop for me on the song, 'Sasural Genda Phool'. I am truly grateful
to all his efforts. I couldn't make it to the studio round; however, I enjoyed
the journey. I understood the back-drop of Reality shows. It is scripted and
they do prefer trained dancers over untrained ones. And yes one needs to be
super smart to be in their good books. The one thing that disappointed me a lot
was the arrangements. There were no proper rooms available for the participants
to change clothes, no washroom facilities and no adherence to rules. The efforts
of the ZeeTV crew were truly commendable. They took care of the registration
process and managed the crowd smoothly.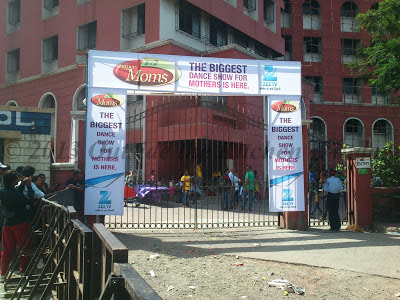 Ryan International School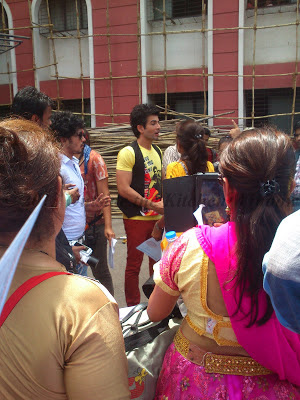 The host, Jai Bhanushali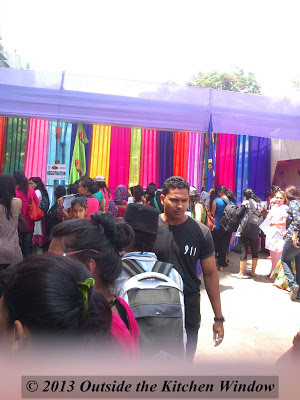 A guard managing the crowd
This was the first time; I was upset, not
because I was not selected, but because I was not a trained dancer. This experience
taught me that, "Training, backed by talent and passion, will surely take you to higher
heights." So my advice to parents is, if your child is talented, don't
waste it, and don't let it go. It could be anything, singing, drawing, acting,
dancing, and sports. Be it any field, support your child. Help him/her to
explore the world beyond books and studies.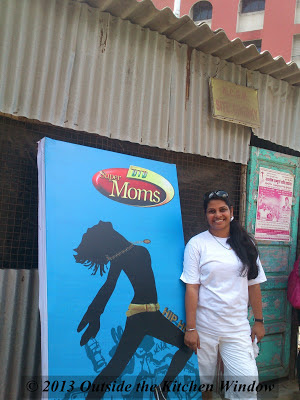 Yours Truly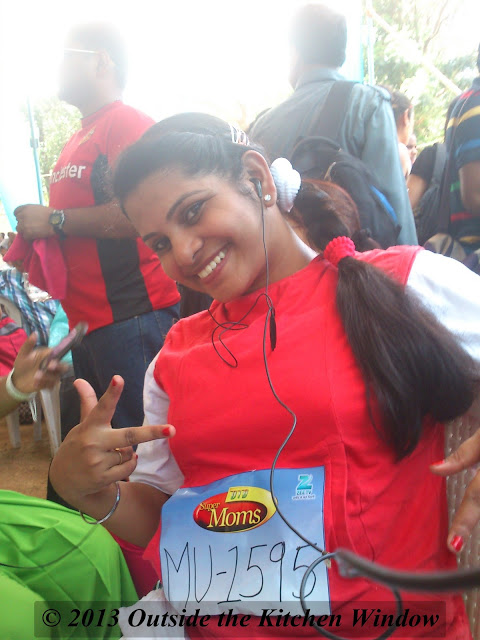 Yo Baby 🙂 the SUPER MOM!
To all those who are reading this post,
all I wish to say is, "
There is only one
thing that makes a dream impossible to achieve: the fear of failure."-
Paulo Coelho, The Alchemist
Don't quit, because you failed, stand up
again and find ways to make things work.
This year is indeed lucky for me
(*touchwood*), things on my wish-list are manifesting in front of me. I have enrolled
for Kathak classes, do wish me luck.
Have you thought about your passions? Do
you wish to take training in any form of creative field? Don't wait for the right
time, just stretch your comfort zone and do it, NOW!
Be positive, be grateful,
Love,
Gayu