I've never participated in Writing Prompts, simply because, I never thought, I could do it. However, my
last post
for Write Tribe was super hit. That's when I thought, maybe, I could do it.
What is the 7x7x7x7 Writing Prompt?
1. Grab the 7th book from your bookshelf.
2. Open it up to page 7.
3. Pinpoint the 7th sentence on the page.
4. Begin a poem/a piece of prose that begins with that sentence
5. Limit it in length to 7 lines/7 sentences.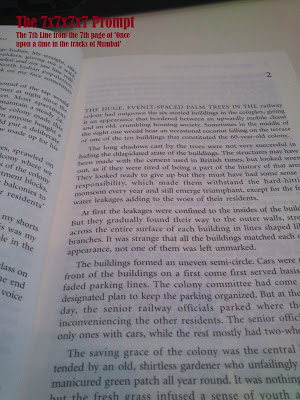 7th line from the 7th page of the book 'Once upon a time in the tracks of Mumbai'
Here's my entry
The long shadows cast by the trees were not very successful in hiding the dilapidated state of the buildings.
I was waiting for this day since past one year.
Ashmit was reluctant at first; however, he had no option, but to accept my decision.
The warden greeted us with a warm smile and led us to the corner room.
My heartbeats increased, as I entered the room.
Tears welled up my eyes, as Ashmit gently took her in his arms and said, "Our daughter is so pretty."
Finally the wait was over, now Diksha was not an orphan, she was our daughter now.
Did you like it? Any suggestions?
Do share your views, it means a lot to me:)
Be positive, Be grateful,
Love,
Gayu