Recently my
sister-in-law visited our house and my daughter was all happy, thrilled and lively.
She was dancing around her Aunt and was super excited. My sister-in-law took
care of my daughter, when I had resumed work after my maternity leave. They would
play, read stories, watch cartoons and have fun the whole day. And all this I
guess lead to a very strong bonding between both of them. I loved to see my
daughter bond with her as it also gave me a little free space, especially after
a hectic day at work.
But that
day, when my sister-in-law came home, my daughter was little adamant and she wanted
to skip school. Initially I thought it was a good idea, but then I knew that
Samu would spend the whole day just talking and playing with her. After
marriage, when a girl visits a mother's house, she would want to relax and
speak freely with her mother. So I told my daughter that she has to go to school.
The moment I told this, she got angry and started throwing tantrums. She got
ready for school, but she was in a grumpy mood.
I dropped her to the school and whispered, 'I
love you' in her ears, but then she didn't smile, nor did she wave her hand as
she does every day. I was a bit upset, but then, I immediately tried to view
the whole situation from Samu's point of view and here's the way she would have
thought about it.
I was four
months old, when Mumma resumed her job. I was too small and all I did whole day
was, drink milk, sleep, again drink milk and sleep. This routine continued for
two more months and then I started to crawl. It was fun crawling and the one
person with whom I wanted to share the fun, was in office. Mumma would call me,
she would bathe me, boil my milk keep all the necessary things ready for me. She
would also ensure that I got my vaccinations done on time, but then…. She
would come home and refresh herself and get into the kitchen immediately and
start cooking. She would kiss me, hug me and tell me, how she has just 2 hours
and she needs to get the dinner ready fast. Then she would get busy with
cleaning the kitchen and washing the vessels. By the time she took me in the
arms, she was too tired to even smile, yet she would make funny faces and I
would giggle.

Aatu was
the one, who was always present for me….
My whole
day was spent in the arms of my 'Aatu', my aunt. She is my world, I can say.
She would play, sing songs, nursery rhymes and watch cartoons with me. While
crawling, if I got hurt, she would immediately caress me and make funny noises
and I would feel better. We both would have so much fun together, that at
times, I never missed my Mumma. She taught me drawing and colouring and we
would at times spend hours playing with colours and clay. My routine was set;
Mumma would go to office and my Aatu, would get me ready to school and at times
even feed me. This bond is something very special, which maybe, I cannot
express.

Then one
day, my Aatu, got married and she went to a new house. I cried for days, Mumma
would console me, yet, I could never understand, why Aatu had to leave me and
go. It was as if, I lost something very valuable and close to my heart. Mumma
still went to work and I would spend my days thinking about Aatu and all the
fun we had together. Now Mumma has quit her job and she is at home. She plays
with me and even reads out beautiful stories to me. Yet, I at times miss my
Aatu a lot!!!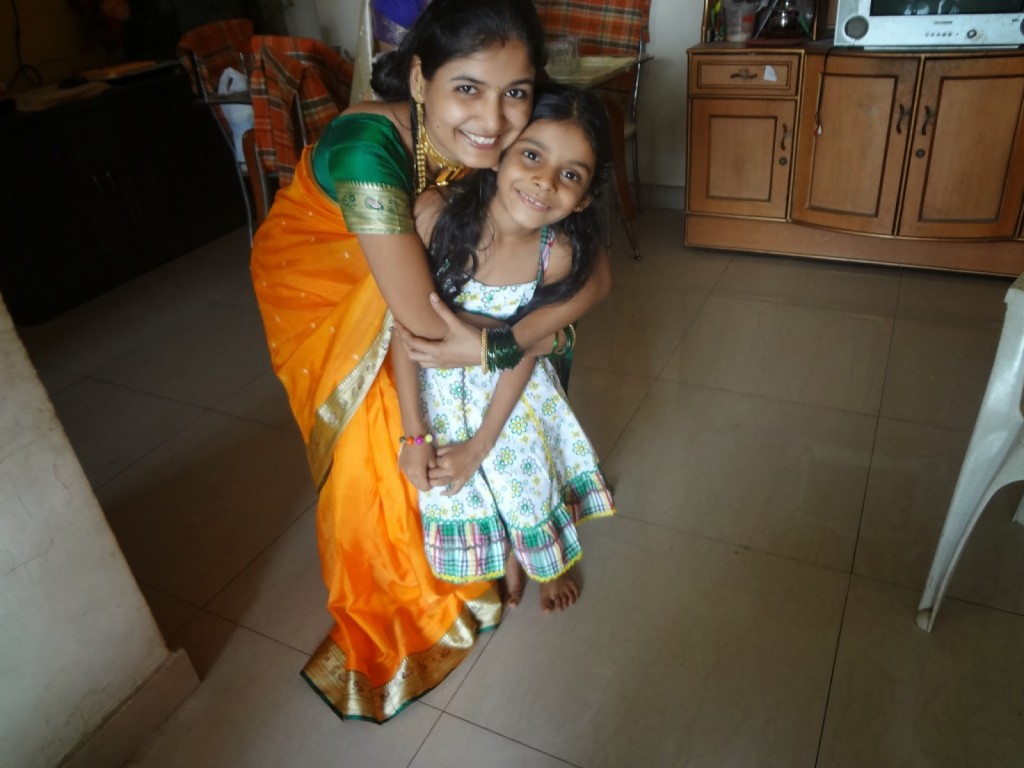 My Darling Aatu 🙂
That day,
it was a surprise for me…Aatu came home and it was so much fun. I had so much
to talk to her. I showed her my recent paintings that I did in School and in my
Drawing class. I didn't want to go to school that day, but Mumma said that I
should go. Maybe Aatu wanted to speak to my Dadi, maybe she wanted to rest for
a while. I was not that happy when Mumma asked me to go to school, but then, I
have to listen to her, as she takes so much care of me. While getting ready for
the school, Mumma said, she loves me….I didn't reply to her. I saw that she
was a little upset that I didn't reply…but then…I too was sad na….
Hope my
Aatu comes to stay again and maybe the next time, I can skip school! I didn't
say 'I love you' to Mumma, but I love her a lot…..she is my Awesome Mumma!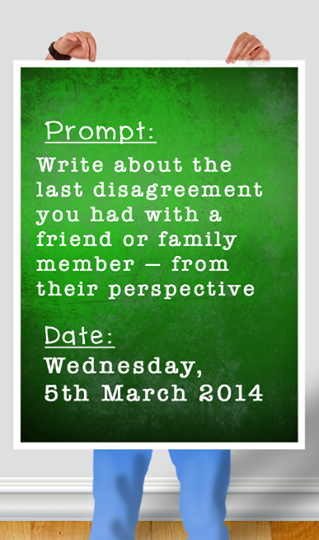 Source: Wepostdaily
Many a
times, we try to enforce our views on others, especially when it comes to
friends and family, we don't even think twice. We fail to understand that, they
the other person too might have his opinions. They too are free to decide and
we don't have the right to go against their will.
Disagreements
do crop up, I agree, but if we could just for few moments, step in their shoes
and view the situation from their perspective, disagreements would dissolve
immediately and maybe relationships would flourish even more easily.
PS: This
post is a part of the
WepostDaily 'Free Prompt'
. Today we had to write about
the last disagreement we had with a friend or family member — from their
perspective. I am sure, you too have your views on this, so why wait…share
them with me, now!