After
my previous attempt at
reading spooky book
, my thirst for supernatural stories
increased and as if the mysterious people on '
The Other Side'
, knew this and they planned to quench my thirst
with these thirteen tales of the paranormal world.
I still can't believe,
a girl who was so scared to even watch Aahat or Fear Files and movies like
Haunted and Ragini MMS, actually mustered the courage to read spooky stories
that too at night (thanks
to uPwithNLP)
"A slow rasping sound made me turn.
I jumped back, the cell phone leaving my hands and smashing against the
concrete floor. Someone was seated on the chair, rocking back and forth.
Through the fallen light, I could see those hands placed on the arms of the
chair, two gruesome wrinkled limbs with ugly boils plastered over the black
skin. The red bangles on its wrists shone in my eyes, momentarily blinding me.
That thing and I call it a thing because I could sense it wasn't human as no
human could have such a hideous form, as vile an existence as the one seated
opposite to my horrified self."
From a honeymoon in the hill that goes
horribly wrong to an obsessed lover who wants his first love in life and in
death; From a mentally deranged man who collects body parts of various women to
stitch together his dream girl to a skeptic who enters a mansion of horrors to
win a bet and much more, this book is filled with scenarios that are guaranteed
to give you goosebumps and sleepless nights.
'The Other
Side' is a collection of thirteen tales of the paranormal; a
world that our eyes refuse to see, our ears deny hearing and our senses ignore
the feel of. This is a book for someone who is brave enough to take up this
invitation to journey through uncharted waters along with the authors, who were
inspired by some bizarre experiences to pen down this work where the lines of
reality have been blurred by the footsteps of imagination.
Each story takes you on a tour de force
of unadulterated horror and draws upon the deepest fear in the human mind- the
fear of the UNKNOWN!
When
I first got an email from
Faraaz Kazi
, asking for a review, I was super duper
happy. He is
also known as the 'Nicholas Sparks of India' and when I read that he had written a book
consisting of horror tales, I was super surprised. He has co-authored the book with Vivek Banerjee, who is a
pediatrician by profession, and an author by accident.
I already had tasted the
flavour of horror stories through Frankly Spooking and that made even more
eager to read this book.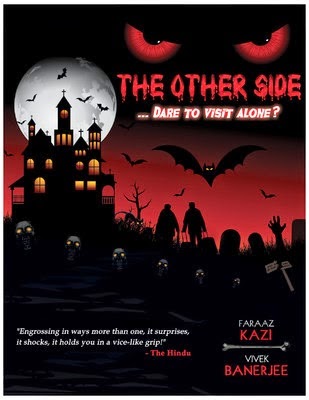 The
book's cover is spooky (look at those two eyes) and the title surely raises your curiosity and makes you
want to explore what's on 'The Other Side'.
The prelude of the book would ensure that you keep the book down and turn
around to see, and wonder, why that curtain moved or the door squeaked. I am
sure you turned around, didn't you?J
Each
story begins with a quote on Fear and paranormal activity after which begins
the journey of the characters in an unknown land, with some strange twists and surprises.
Each story is well narrated with generous doses of spooky elements in it. Some
stories were too scary and some predictable. However the authors have done a
fantastic job of narrating the scenes so well that even if I predicted
something, I would end up having goose bumps all over my body. The book also ensured that I bit all my nails, especially while reading , 'Dream Girl '. The authors have also
done their research very well especially for the story, 'The Mystery Lake'.
They have very well described the lonely surroundings, remote villages, smells and sounds
to ensure that you actually don't sleep at night. After reading some of the
stories, I actually felt the chill wind blow and could hear some voices at a
distant. That was the after effects of a gripping narration. The only thing I
felt could have been improved in the book were the illustrations. When the narrative
was so powerful and the cover so spooky, the illustrations too could have
been even scarier.
My
personal favourites from the book were-
The Man Who Did Not Fear,
The
Muse Comes Calling
That Fateful Night
The Mystery Lake
A Mother's Love
Possession (*Fantastic
narration)
Unfulfilled Desires (asking for Justice)
Dream Girl
This
book is a must read for all the horror genre fans and also for people who want
to read something different and thrilling. I bet you would enjoy reading it.
The authors have written an intruding epilogue, which makes you crave for more
stories from them. Simple language, fantastic descriptions and creative twists
make this book an easy read.
So
what are you waiting for, grab your copy of,
'The Other Side'
, today from leading
online portals
or from the
nearest Crossword Stores.
And do remember to switch off the lights at night,
for you never know who is watching you from where …*evil laughter* !