When I first received
a mail from Faberly, asking if I would be interested in reviewing this book,
they had sent the
Teaser link
. The moment, I saw the teaser, I knew, I had to
pick up this book. Then the wait began and finally when the book arrived, I was
surprised. Here I was waiting for a huge book, maybe 200-300 pages…and what
came in the courier was a cute, small handbook, of 111 pages. I was sure that I
would finish this book in less than two hours.
Just as the
name arouses curiosity, the blurb, and the book cover too, makes one curious as
to what is the mystery behind 'Lucifer's
Lungi'.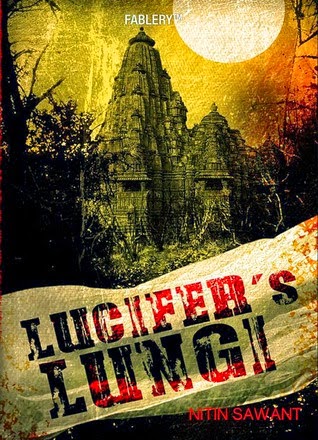 An atheist city-slicker unleashed on a medieval holy
village…

A simpleton village priest's boy who blindly worships and guards a pantheon of
Gods and Their traditions…

Strange things happen when their worlds collide!

This is a tale of that turmoil on a lonely night in a jungle, when the ghosts
you never knew till a few hours ago are let loose on the ghosts that you always
carried within, unknowingly.

Welcome to the unholy clash of beliefs, fears and frailties with unknown Gods
and demons. A clash that will test your convictions. A clash that will rabidly
claw and unmask your subconscious, leaving you naked and paralyzed in front of
your demons – in a climax that is as ambiguous as it is certain…

Welcome to the madness of 'Lucifer's Lungi'… where
What-You-See-Is-NOT-What-You-Get…
*********************
The book begins
with the introduction of protagonist, who is a software professional stuck in
the mundane city life. "Those days in
Madras, there were only so many movies I could see, just so many versions of
sambaar rice I could savour and barely a handful of bars and pubs that I could
crawl into". These lines expressed the monotony of the protagonist, so
simply. That is when he decides to explore the mountains and remote areas of South
India on weekends, not knowing what was waiting for him.
On one such
trip, something very strange begins to unfold. That one night, changes
everything, maybe for the better or for worse, where he had to face his fears
and fight the demons, which perhaps he had given birth to. I don't know if it is
a real story, but the narration gives it a realistic feeling. I was walking in
the jungle with Saar; and my
heartbeats started increasing, as the
mystery of 'Lucifer's Lungi', unfolded,
gradually. That was the power of Nitin's simple, yet gripping narration. The story questions
the beliefs that have been drilled into our unconscious, subtly. Nitin Sawant
has done a splendid job, by holding the reader with few characters and intriguing
descriptions.
It took me
down the memory lane, when something quite similar happened with me and I am
sure many of us too, would have experienced such things at some point of our
lives. This book is an interesting read and if you are someone who loves
reading
thriller
and
suspense
stories, then you ought to
grab this one
, immediately! The 111 pages will leave you asking for more from the
author. This book reminds me of the quote, which I came across few weeks back,
"It is ok to Doubt, what you already Believe."
After reading
two romantic novels,
'Lucifer's Lungi',
unlocked the creative and mysterious neurons in me! Thank you Faberly for
sending this book,
Nethra
you rock!
Few lines, which resonated
so well,
"Never felt so
miserably helpless in my entire life. What am I in front of Palayar's might?
How did I get this audacity to challenge His authority? Do I even matter in His
grand scheme of things? Turns out that all the knowledge of the universe that
I'd accumulated so far counts for nothing, since I lacked the humility to
accept His divine will…."
Happy Sunday Readers and Book Lovers!
Love,
Gayu