If there is one genre that I simply love reading, it is romance. I keep hunting for interesting stories, contemporary plots and authors who create magic through their characters and words. This craze for love stories made me pick the latest double header novel, 'Love, Again' with two novellas, published by Half Baked Beans. The novel has two stories – These Lines of Mehendi by Sumeetha Manikandan and A Tulip in the Desert by Shrruti Clarence. Both the stories have are weaved by the threads of love and second chances.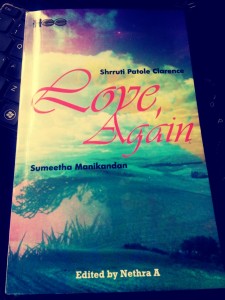 These Lines of Mehendi
Blurb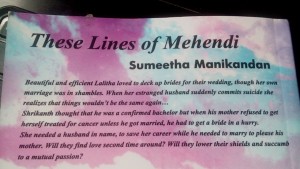 The story takes you on an emotional journey with Lalitha, an excellent beautician and Mehendi artist. With the death of her estranged husband, Lalitha gets a tag of a widow and this starts affecting her business. Her presence during a wedding is considered inauspicious.  She is not allowed to touch the mehendi or any stuff of the bride.
As she is burdened with the loss and thinks of shutting down her business, her aunt brings forth a proposal of 'marriage of convenience'. Lalitha is confused at first, but when she meets Shrikanth, she finds herself drawn towards him.
The story makes you question the belief system that we are living in, even today. Though Lalitha stayed apart from her husband, she was given orders for bridal makeup; however, when she loses her husband she suddenly becomes inauspicious. She is insulted and asked to leave the marriage hall as her mere presence is believed to bring ill-luck to the bride.
Life does give her a second chance, but there is no commitment and yet she chooses to enter the world of marriage with Shrikanth. Then begins their journey of confusion, questions, anger, misunderstandings, friendship and love. I fell in love with the email conversations and whatsapp text messages between Lalitha and Shrikanth. Lalitha's aunt is a so supportive and forward and Shrikanth's mom is kind hearted and lovely.
Sumeetha has fantastically sketched all the characters in this story. The narration flows smoothly and the language is very simple. I especially loved the vivid description of Shrikath's room. I connected very well with These Lines of Mehendi, as the characters face real challenges while committing again. With each chapter I fell in love with the couple and their vulnerabilities. There is a deeper meaning to this story which rises above love and that's what makes this story special and unforgettable.
About Sumeetha-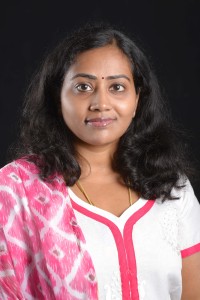 Sumeetha Manikandan is a freelance writer and an author who loves to write and base her plots on the tambrahm community of Mylapore, Chennai. She is the author of 'The Perfect Groom' that has been a bestselling ebook on the top 50 charts of Amazon India ever since publication.
An avid reader, she loves to read across different genres – romance, historical fiction, non-fiction, mystery, fantasy etc. A history buff to the core,she is currently translating Ponniyin Selvan – the evergreen tamil classic epic history by Kalki Krishnamurthy into English.
Married to film maker K.S. Manikandan, Sumeetha lives in Chennai, along with her six year old daughter.
 ****************
A Tulip in the Desert
Blurb-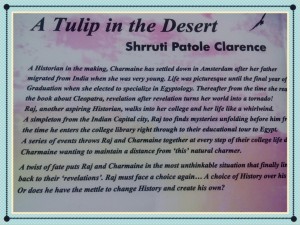 The charming Raj and beautiful Charmaine, aspiring Historians come together to work on a project and discover a strange connection. Every single moment that Charmaine is with Raj, she feels a strange connect. It's as if she knows him since ages. There are times when she decides to stay away from Raj, but eventually ends up in front of him. She keeps questioning her behaviour and when she discovers the answer, she is startled.
This story is a perfect mix of adventure, fantasy, mystery and love. Shrruti's in-depth research shows in her writing and the beautiful description of Amsterdam. Some scenes that I loved from the story are- Raj and Charmaine's first meet, the drama audition and the mysterious climax. I wish to write more about the story, but that will be a spoiler, so I stop it here.
The language is used simple again and the plot is unique. The narration is nice, but could have been smoother (my view). I personally feel that this story has the potential to become a full length novel and Shrruti should work towards it. Not every day you get to read a love story with a pinch of mystery generously sprinkled over it.
About Shrruti-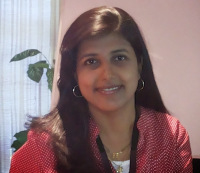 Shrruti has been a voracious reader since early years and took to composing poems when she was very young.
An Aviation Manager and 10years with various airlines, she has been on a sabbatical for her two son's aged six years and 1 year respectively.
She enjoys this welcome break from career, to be able to pursue her passion, writing!
She has to her credit 6 short stories featuring in different Anthologies all published this year, one of which will soon be seen as a short movie
******************
Both the stories are equally entertaining and if, like me, you too are hopelessly romantic, then pick up this book. Now that the rains are here, this book is a perfect weekend read, with some ginger tea and onion fritters.
Which book are you currently reading; I would like to know more about it in the comments.
Happy Reading!
Love and Gratitude,
Gayu