A very common question that most people ask me is, "Gayu how do you manage to do so many things?" I always reply, "I do all the things easily, by focusing on one task at a time"
I learnt this skill from my daughter. When she sat to draw, she completely immersed herself in that one activity. This was the same when she watched cartoons. However as adults our internal chatter keeps us preoccupied. We maybe cooking, but the mind tends to wander and keeps thinking of 10,000 different things, "Why did this happen to me?" "Why didn't I get promotion?" "How will I arrange for the finance?" "What will I tell my boss?" "Why did my husband avoid me today?" "Why did my daughter answer back like that today?" "Am I not a good mother?"
Yes it happened to me as well and I realised in this chatter, I lost the joy and peace the present moment  gave me. What did I do- I simply began observing the thoughts as a third person/consultant every morning and night. Some people call this meditation. As I continued to do this, I stopped the blame game and the guilty feeling vanished. I became calmer and my creative ability enhanced. I shall blog in-depth about it in another post.
Many of my blogger and facebook fans expressed interest to know my schedule, so here it is- a typical day in Gayu's life.
Since I was a working mom for six years, I shall share my schedule as a working and as a SAHM.
As a corporate professional and a mom-
Weekday
I worked in shifts and came home by 12: oo am every night. This is how my weekdays looked as a working mom.
12:30 am-2:00 am: Read blogs, books, write blog posts, reply to comments and brainstorm FB post ideas
2:00am – 7: 00 am: Sleep
7:00- 7:30 am: Meditate and plan for the day
7:30- 9:00am: Prepare breakfast (mostly poha, upma, dosa or parathas), lunch (sabji, chapatti, dal and rice), clean kitchen and wash utensils
9:00- 10:00 am: play time with daughter, personal activities. We also used this time to fold clothes. I ensured that my daughter folded her clothes. A little help from her made my life smooth.
10:00- 11:00 am: Study time with daughter
11:00 am-12:00 pm: Getting daughter ready for school and dropping her.
12:15pm- 1:00pm: Getting ready and leaving for office.
I used to catch the 1:24 local from Kalyan for office. It took me 45 minutes to travel and I made use of this time to reply to comments on Facebook, read book or just take power nap. My shift started at 2:30pm and ended at 10:30 pm. During coffee breaks I checked my personal emails and comments.
Blogging, reading and Facebook were my escape from the real world and I enjoyed the time I spent on these activities. As you can see I never watched TV. This saved a huge chunk of my precious time. When I was working, weekdays I never got time to spend with my husband, but on weekends we ensured to spend quality time together.
Weekends
6:00- 7:00am: Go for a walk with hubby. At times my daughter joined us.
7:00-8:30 am: Meditate, read book, blogs and Facebook updates.
8:30-11:00am: Prepare breakfast, lunch, clean kitchen, wash and fold clothes.
11: oo am-1:00pm: Give daughter study exercises, drawing/colouring activities and enjoy my 'me-time'. My husband took care of my daughter, while I indulged in my personal activities- beauty parlour visit (if it's due), head massage, relaxing with some lovely music.
1:00- 3:00pm: Lunch time followed by a story reading session and power nap.
3:00- 5:00pm: Play time with daughter, reading books, blogs, Facebook updates.
5.00-6:00pm: Make a quick evening snack and enjoy the time with hubby, while daughter watches some cartoon.
6:00- 8:00 pm: Get ready and leave for dance classes. Classical dance fascinated me as a child, but I couldn't learn it then. However now I enjoy my weekends dancing to the tunes of tabla.
8:00- 10:00pm: Refresh and prepare dinner. Hubby helps me here in cutting veggies. We have dinner by 10pm.
10.00- 12:00pm: Clean kitchen, read books, Facebook posts, reply to comments, chat with blog/virtual friends.
I don't enjoy chatting on Whatsapp or Face book Messenger. Those who know me very well will vouch for this. I prefer calling and speaking for 10 minutes, and not getting stuck on Whatsapp. However, there are few selected people with whom I chat on Whatsapp or FB. They are my energy boosters and chatting with them inspires me.
Now this was my schedule two years ago. After I quit my job and freelancing too over, my schedule is somewhat different every day, but the base remains the same. I don't watch TV and limit my time spent on the internet. Here is how my typical weekday looks like, now.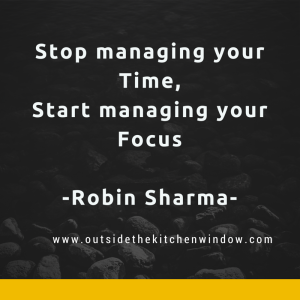 As a freelancer and a mom-
Weekdays
6:00- 6:30am: Meditate
6:30- 8:00am: Read books, blogs, Facebook updates.
8:00- 9:30 am: Prepare breakfast, lunch, clean kitchen, wash utensils.
9:30-10:00am: Personal activities
10:00-11:00 am: Study time with daughter.
11:00am- 12:00pm: Get her ready for school and drop her.
If I have a counselling or coaching client, I leave to meet them. Or else I come home and the day continues as follows.
12:30- 4:00pm: Have lunch, read a book, watch inspirational videos, research, write blogs and power nap.
4:00- 5:30pm: Make a quick evening snack and do the necessary arrangements for dinner.
5:30- 6:30pm: Pickup daughter from school and spend time with her.
6:30- 7:30pm: My daughter goes to play and I take a walk. If I don't go for a walk, then I use this time to write a blogpost or dance.
7:30- 8:30pm: Prepare dinner, clean kitchen and wash utensils.
8:30- 10:00pm: Have dinner and enjoy some time with hubby.
10:00-11:30pm: Read books, blogs, Facebook updates, chat with virtual friends
Weekends-
Monthly once I conduct a storytelling workshop via Small Tales, excluding that weekend, my weekend schedule is the same as above.
So now that you know my schedule, I am eager to read yours. Go ahead and feel free to share your daily routine in the comments box. If you wish to learn more about how to manage time, then do drop me a comment and I shall write a separate blogpost on how I manage my time effectively.
If you are eager to explore the world of meditation and wish to know how I meditate, then drop a comment and I shall take you through the simple, yet, effective method that I follow to meditate, easily.
And if you found this post inspiring, do share it with friends and family.
Have a productive week ahead.
Love and Gratitude,
Gayu