I'm an ardent fan of Preeti's writing since 2010. I've read all her books and continue to read her blogs and columns in newspaper. Her first book, '34 Bubblegums and Candies' was a collection of her blogposts. I enjoyed reading it as it spoke of life in a subtle yet profound manner. When I heard of her latest non-fiction, 'Why We Love the Way We Do' in 2015 I was all set to read it, primarily for two reasons, one for Preeti and two for the title- Love.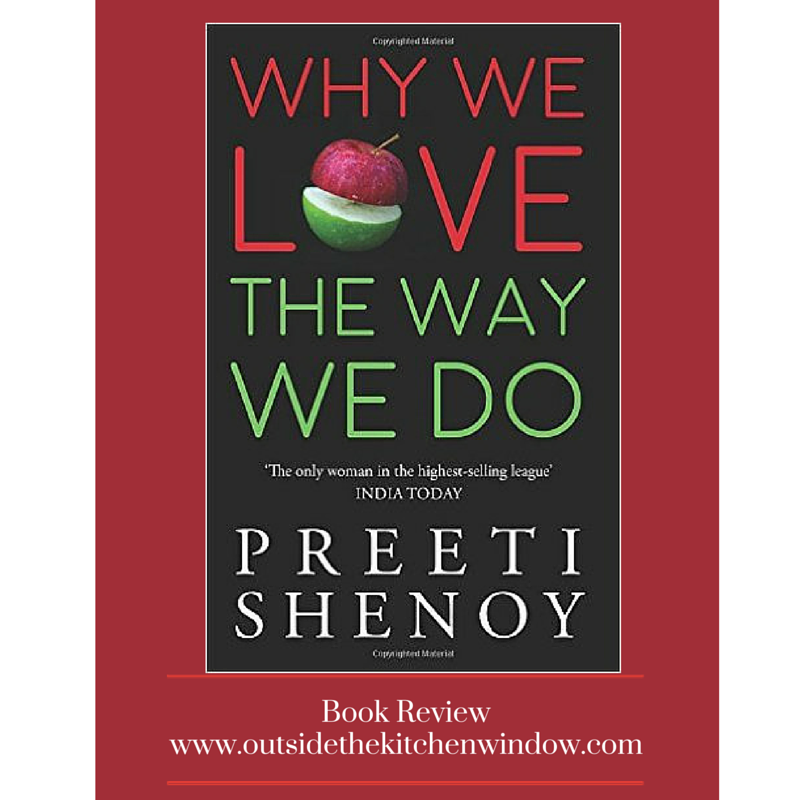 Behind the Book-
"Is it possible to tell if it is love or lust? How important is sex in a relationship? Why do break-ups hurt so much? How often should you message a person you fancy? How do you tell if someone is too young or too old for you? When it comes to relationships, these are the questions that most of us ponder. No matter how young or old we are, we are all looking for ways to make our relationships better. The best way to do that is to understand what makes us behave the way we do. Why We Love the Way We Do is a collection of essays on relationships based on Preeti Shenoy's hugely popular columns in a national daily, in which the bestselling novelist discusses some of those issues and questions that people in relationships, or those hoping to be in one, face. The topics range from those particular to our modern, technology-filled world: how to move from an online relationship to a real-life one, how to find and keep love online, whether casual sex is worth the effort; to those immortal issues such as how men and women communicate differently, how to deal with a broken heart and how jealousy ruins a relationship. Filled with wonderful insights, sharp observations, humour and real-life examples, and written in her trademark lucid style, Preeti Shenoy brings to this book a perceptiveness about love and friendship that has made her the country's highest-selling woman writer."
Love is an emotion that's glorified by poets and writers. Through poetry and love stories, we all have built an image of how love is and what happens when we are in love, isn't it? Preeti's latest book speaks about love too, but in a totally different way. She writes about the different ways men and women perceive love, their actions and their expectations. Through real life examples Preeti takes us through the way dating has changed in the years, how social media impacts our decisions and how couples are becoming more open about their expectations from a long-term relationship.
The book offers some ways to start afresh after a breakup and how to handle conflicts and communicate effectively with your partner. It also emphasises the importance of sex and physical contact in a relationship. The anecdotes from Preeti's life fit perfectly in the chapters. I loved reading the chapter on laughter….the little moments of fun and mischiefs that she shares in this chapter will strike a chord with everyone. I believe that such joyful moments help you bond better with your partner.
The beauty of this book is you can start reading any chapter and it connects with you deeply. The language is simple and I finished reading the book in two days. Preeti's extensive research and experiences as a wife, friend and an observer is visible in the book. It may look like a self-help book, but it isn't. It is like a friend you can meet when you are feeling low and have a heart-to-heart conversation and feel better, instantly.
The opinions in the book are from a neutral perspective, an observation by my husband after reading few chapters. If someone had gifted a book like this to me in my teenage years, I would have dealt with heart break in a completely different way.
You can gift this to your teen or a newlywed couple. It is perfect for married couples or someone who has had a breakup. A fantastic read for anyone who wants to explore the enigmatic world of love. I highly recommend to add this book to your treasured collection.
I received a signed copy at the Bangalore book launch of Why We Love the Way We Do in November 2015, but finally managed to read it in 2016. This is the first book I read in 2016 as a part of #BrunchBookChallenge,  a Hindustan Times initiative, where readers have to read 24 books in a year, that's 2 books a month. The main purpose of taking up this challenge is to finish reading the pile of unread books.
To know more about Preeti and her books, you can visit her website.
You can buy her books on Amazon India
Are you a part of the #BrunchBookChallenge? Which are the books you are reading currently? I look forward to read new genre this year. If you are reading something new and different, do drop me a note in the comment box and I shall pick up that book.
Happy reading!
Have a blessed and abundant 2016!
Love and gratitude,
Gayu