It began with a dull shoulder ache, slowly moved towards my neck and manifested as a headache. The first few days it was bearable, but as days progressed the pain worsened and it affected by every day chores. As a therapist I was aware that this pain was psychosomatic, which meant that there was an emotional trigger to this pain. However I wasn't able to figure out what that was.
So I decided to speak to my friend, 'The Lightweaver' who is an expert in guiding individuals towards the light. She asked me few questions and immediately figured out that a childhood event needed healing. As she wasn't available in Mumbai, a personal one-to-one was not possible. The telephonic conversation had helped me considerably to disassociate with the pain, however it hadn't completely gone.
That evening after our conversation I saw a Facebook event suggestion, "Emotional Cleansing" workshop by Janki of 'House of Happiness'. I didn't know Janki personally but had recently watched her TED talk. I decided to enrol for the workshop. On the day of the workshop, Janki introduced us to some concepts of emotional cleansing. We had to write some of the emotional events in our life list down our learnings from those events. The only  emotional event that was stopping me was my childhood my relationship with my Amma (biological mom).
During the workshop Janki kept sharing anecdotes and case studies of her clients. As I was listening to all those stories I recalled the movie Coco. In the movie the family of the protagonist believed that the great-grandfather had left the family for music however when the protagonist meets him in the world of dead, he comes to know the truth that his great-grandfather couldn't return to the family as his friend killed him.
For years the family kept retelling the story that music was bad and how it killed relationships but now there was another side of the story, which nobody knew.
That entire scene replayed in front of me and I realised that whatever I knew about my Amma was through the stories that my Appa, grandmother, uncle and aunt told. I never got a chance to interact and question my Amma. Maybe there was another side to all these stories. That's when I questioned myself.
What could have pushed my mom to behave in that particular way?
What must have been my mom's story?
Was she going through any mental illness?
Was she too fighting her inner demons?
The moment I asked these questions, the response and my feeling towards my Amma shifted. I could sense my mother's helplessness and I cried. The tears cleansed my emotions and I felt relived. The workshop ended with a powerful cleansing meditation and I felt empowered. The headache reduced further and I felt healthy.
The next part of healing was a one-to-one session with a therapist and 'The Lightweaver' came to guide me through the healing process. It was tough to face my emotions and forgive my Amma and myself but I had to do.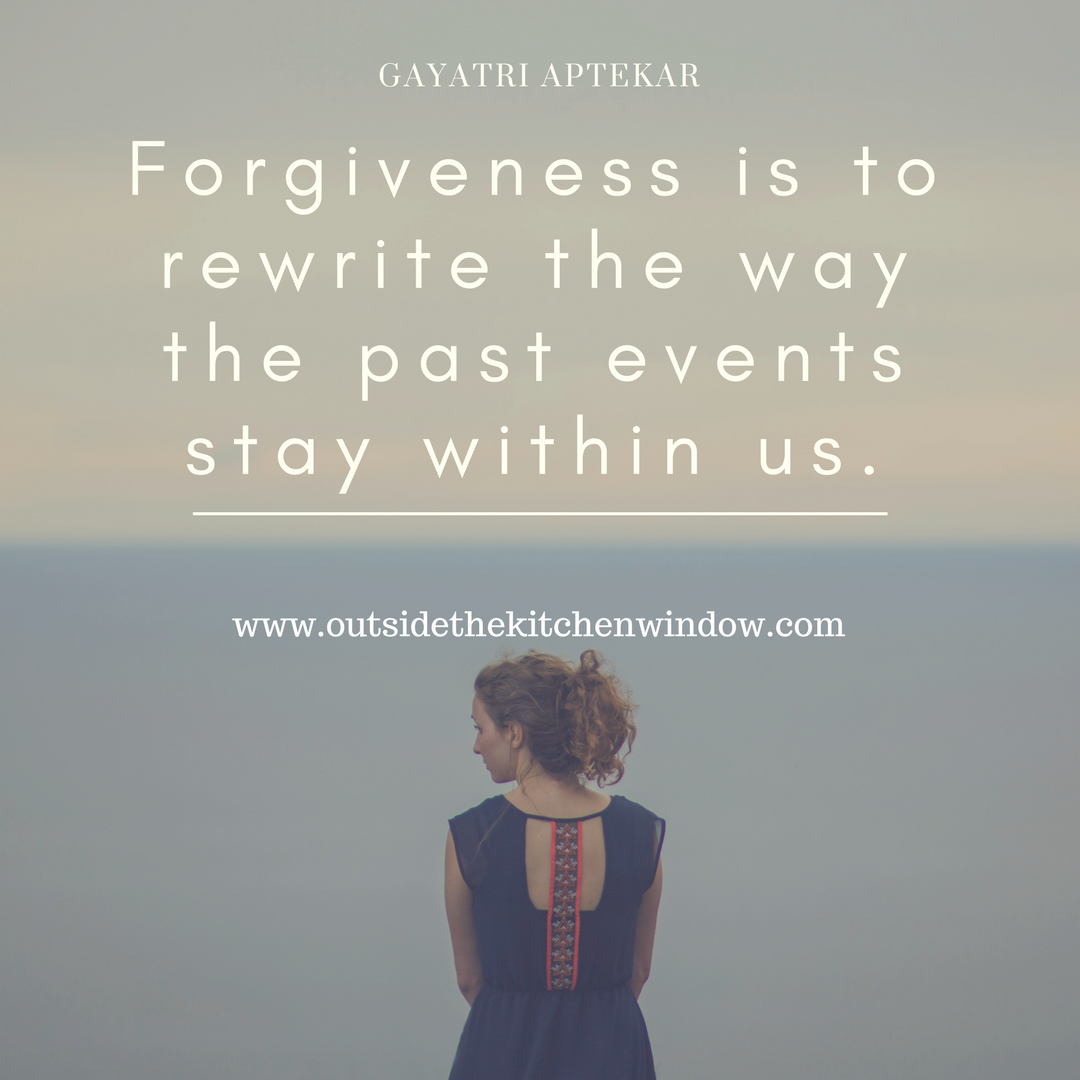 Why should we forgive our parents?
"Forgiveness is a gift you give yourself"- Suzanne Somers
To come out of the cycle of suffering:
Forgiving our parents is necessary for closure of the relationship and to come out of the cycle of suffering. Growing up I remember I searched for a mom in all my relationships, in my friends, in the romantic relationships and even in my woman bosses. The interesting part here was that I never got that motherly feeling in any of the relationships. Deep down I had the fear of abandonment and somehow before someone left me, I left them.
In this process I lost many friendships. I also had many issues with the female bosses. I struggled when it came to dealing with other women. I felt like a victim. This pattern kept repeating and to come out of this pattern, I had to forgive my mother.
So that we don't repeat the same behaviour:
When my daughter was born I made a promise to myself that I will not behave like my mom. I will take full care of my daughter, love her unconditionally and be the perfect mother. However as time passed I observed that I behaved exactly like my mom. Forgiveness helps us to break from that behavioural pattern as it shifts our identity.
Our other relationships can grow:
When we forgive, we can move on with our life and our relationships with others blossom. We are finally able to see others the way they are instead of comparing them with the mental image of the relationship that we have created.
Remember forgiving our parents doesn't mean what they did to us was right, but it's just a way of processing the events differently in our brain. We are not changing what happened to us but we are rewriting the way it stays within us.
In my next post I will share some practical steps on how we can forgive our parents or any other person. And the headache, it disappeared and I'm feeling so empowered and healthy.
Have you experienced the moving power of forgiveness? Do you believe in forgiving others? Do share your stories and thoughts in the comments, I'd love to read them.
Love and Gratitude,
Gayu