Samruddhi's school had given this interesting project for children and parents of identifying the plants whose pictures they had displayed on their notice board. The project included clicking snaps of your children, and creating a photo album with the names of the plants.
The treasure hunt began…and we went to a Pathare Nursery near Kalyan station. It is a wonderful place, especially for people who love greenery and who enjoy gardening. All your gardening needs will be fulfilled here. I bought all the plants my terrace from this nursery. The place is well maintained and the helpers over there were quite co-operative.
We clicked many pictures and Samu just enjoyed playing around there. We finished the project…and to add some creativity, I did some Quilling work on the cover of the album. Here is the final output. Samu's teacher was quite impressed…and she praised Samu in front of the class. The little one was very happy…and Mama got so many kisses and hugs:) "Life is beautiful" *touchwood*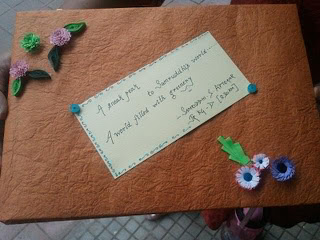 The cover of the album

I shall post some more pictures tomorrow.
Till then keep smiling and keep bloggingJ
Gayu
PS: I just noticed this is my 95th post…and I can't believe…I survivedJ . A special thanks to Preeti, Jack uncle, Gopikaa, KP and Meera. Thank you for all the lovely comments.