Hope 2013 is
treating you all well. For me 2013 began with a bang. I managed to give my
third semester PG exams and all my papers went very well. My plaster was
removed in the last week of December, 2012 and I started walking, finally
freedom from bed rest. I am back to work and its feels amazing to be amidst my colleagues,
with meetings, mails and reports. I truly missed all this.
The Bible
says, "Ask, and it will be given to you; seek, and you will find; knock, and it
will be opened to you. For everyone who asks receives, and the one who seeks
finds, and to the one who knocks it will be opened." I must admit that I
completely believe in this .Last year I created a '
wish list'
, and I am so
delighted that one of my wishes did come true and that too, within just 15
days. Preeti Shenoy, had come over to Mumbai for the launch of her book, '
TheSecret Wish list'
and I couldn't miss this opportunity of meeting her. The book
launch was at Juhu- Crossword and she was in conversation with
Kiran Manral
, an
avid blogger and author. Little did know that there were more surprises in
store for me.
I knew Preeti through her words, through her
blogs and her books, but this was the first time I met her in person. She
greeted me with a warm bear hug, it was an emotional moment for me, and I can't
describe those feelings in words. I had so much to talk….but then words
refused to flow and "THANK YOU", was all that I managed to say at that moment.
She was looking stunning with her grey dress.
I really wondered, "Is she a mother of two?" Kiran Manral joined us and we
three chatted for some time. That's when Preeti said that Ravi Subramanian was
also going to be there. I couldn't believe my ears, Ravi Subramanian, the John
Grisham of Banking…he was also a part of this event.
15th January
was indeed a lucky day for me.
I had a fantastic time with three authors, we
clicked pictures, we shared some stories, and Ravi signed a copy of his book
for me. I kept pinching myself, because I couldn't believe that I was here
amidst three eminent authors.
"I am a firm believer of law of attraction.
What we are today is solely because of our thoughts. When we write down our
thoughts or our wishes, they become goals. And it's easier to achieve a goal,
than a wish!" These were Preeti's inspiring words, as the conversation began.
She even read out few passages from her book. I could actually visualize Diksha
in front of me. It was as if Diksha was narrating the incident to me.
The best thing I loved about Preeti was, the
way she greeted each of her readers. She patiently posed for all the pictures
and was ever-smiling and enthusiastic. It must have been so difficult for her…I
thought for a moment, she really looked like a celebrity, with so many cameras
trying to capture her smile!
It was a fun-filled event and I missed my blogger friend Privy Trifles so so much. Thank you Preeti for coming to Mumbai and making this event so wonderful. A special thanks to Kiran and Ravi also, you guys made this year so so special for me!
Here are some pics for you all!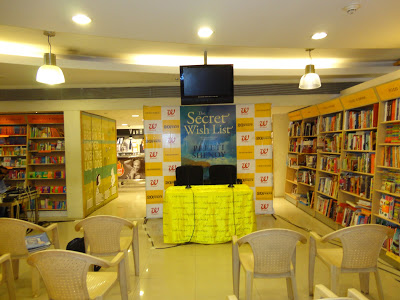 The set is ready!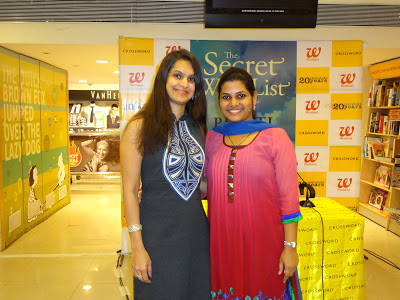 Yeahhhh wishes do come true!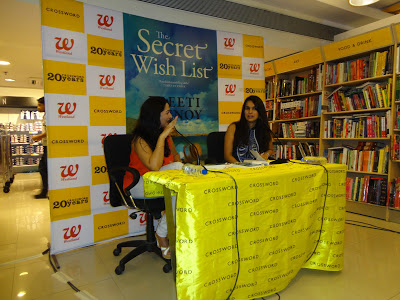 Preeti and Kiran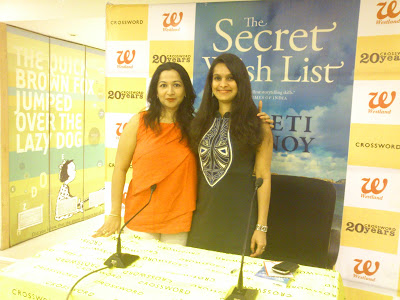 Women Power!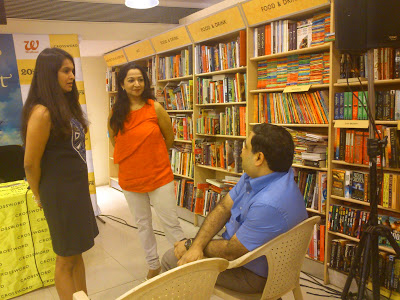 Authors in conversation!