22nd of July
2013, the most memorable day of my life, I was anxious, curious and even
excited. I remember, it was a Monday and the previous night, I couldn't sleep.
I thought about all the people who told me that I was a fool to invest in this
course, I even thought of cancelling my enrolment. It was a strange confusion
that kept me awake the whole night.
22nd July was
Gurupurnima, and I was about to start a new phase of learning and as I left my
house, I just said a small prayer. I asked the
Superpower
to guide me and to make sure that I understood every bit
of what was taught to me. Little did I know that my Life was about to take a
U-turn. I had enrolled for the
uPwithNLP
course from
School of Excellence
.
NLP stands for
Neuro-LinguisticProgramming
. Now what is that, many
people asked me. I can go on and write pages describing what NLP is, however,
it is something to be experienced. It's just like telling someone, what it is
to be a
Mother,
we can keep telling
and writing, however, once you are a Mother, that's when you actually know what
it is like. Something's in life are to be experienced and I was fortunate
enough to enter the magical world of NLP with School of Excellence.
Neuro-Linguistic
Programming (NLP) is basically a study of human behaviour, how we as individuals
think, talk, react or respond in
a particular situation. It answers a very important question, 'Why
we do, what we do?" It helps us connect to the unconscious (subconscious)
and program ourselves to achieve excellence in every walk of our life. NLP
provides us with necessary tools to observe and understand ourselves and the
people around us.
Antano
and
Harini
are
the most effective and efficient trainers, I've met till date. They make the
learning process Fun, Magical and worth Contemplating.
You can read more about
the origin of NLP and how it can help you as an individual/organization,
here
.
The 6-days NLP
Practitioner course, transformed me as a person. It changed my outlook towards the
little things in my everyday life. Someone asked me, 'Will NLP erase all your
problems?', I said 'No, it won't erase my problems, however, it would provide me
with the necessary resources and strategies to deal with problems.' And I guess
that is what is most important in life.
Now pause for a moment
and think of one of the most challenging situations in your life, wherein you
emerged successfully. How does it feel, when you think about it NOW? You maybe
feeling proud and confident that you had handled the situation exceptionally
well. Now that situation brings in satisfaction and a sense of achievement to
you. What if, you could handle each of such tricky situations with wisdom and precision,
wouldn't life be different?
We all wish to nurture
our relationships with care and love, we wish to understand and empathize. What
if, you could get into rapport with every person you meet and create win-win
situations wouldn't life be different?
At times, certain events
in our life chain us forever. We keep blaming ourselves or others and end up
being frustrated and depressed. What if, you had a magical wand and the event
or memory just becomes powerless, wouldn't life be different?
Goals are an inseparable
part of our life. We've been setting Goals, from our high school days till
date. What if, you could focus on the most important Goals of your life and
even achieve them with maximum efficiency, wouldn't Life be different?
Most of us are blessed
and have a doting family, a well-settled business/job, good health and
financial security, yet the craving never ends. There's something missing… What
if, you could achieve personal satisfaction and be happy for absolutely no
reason, wouldn't Life be different?
You CAN achieve all this
and many more….with uPwithNLP.
For me the 6-days were
an eye-opener. I met people from different walks of life, some entrepreneurs,
some teachers, some trainers, some managers, a doctor, homemaker and even a
student. We bonded as a family and on the 6th day, we didn't want to
leave each other. It was something very unusual, just like SRK saying, 'Saath din, ladki in', in Kal Ho na Ho.
The bonding just happened…!
The group picture.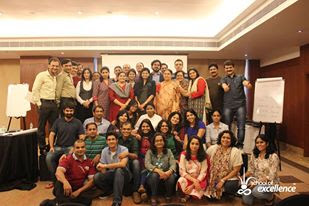 The Transformers- 22nd July 2013 batch
For more pictures, you can visit my Facebook page:
For me, NLP is Personal Freedom, Freedom to manage
my thoughts, my response to situations, my ability to learn new skills, my perceptions
towards people/situations and my communication.
Do keep following, to read more about my personal
transformation journey with uPwithNLP.
I leave you with a quote by Richard Bandler,
"You know what ? Certain people think they will feel good if certain things happen… The trick is : you have to feel good for no reason…
But I'm sure of something, if you make you feel bad, you'll make bad decisions.
Remember, it's your own body, your own brain. You're not a victim of the universe, you are the universe.
If you can't enjoy what you have, you can't enjoy more of it."
Be positive,
Be grateful,
Keep Smiling,
Love,
Gayu